ISOtunes Xtra 2.0 Noise-Isolating Bluetooth Earbuds
Cancels out noise so you can talk on the phone and listen to music as you work—now with larger buttons, Bluetooth 5.0, and all-day battery life!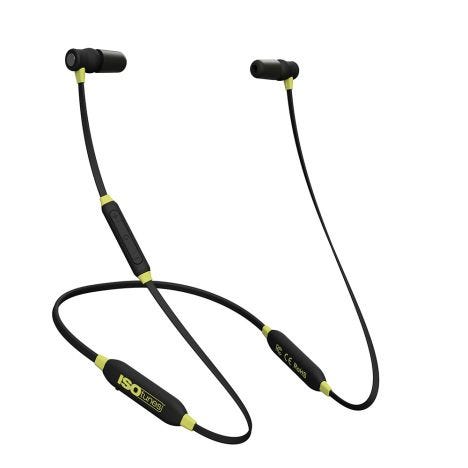 ISOtunes Xtra 2.0 Noise-Isolating Bluetooth® Earbuds let you tune in the sounds you want to hear, like music and phone conversations, and tune out the ones you don't, like power tools, lawn mowers and vacuums. And thanks to Bluetooth 5.0, you'll enjoy all of this without any messy cords. Xtra 2.0 keeps the best features of the original, but boasts a redesigned controller with larger, more pronounced buttons and longer battery life. Foam tips block out external noise to your ear, while the built-in noise-cancelling microphone filters out noise that would otherwise be heard over the phone. The lightweight memory wire neckband provides a secure fit, and batteries rest comfortably on your shoulders. Use the controller to play and pause music, answer and end calls and adjust the volume.
Features:
Redesigned controller has larger, more pronounced buttons for ease-of-use
11+ hour music playback and talk time with rechargeable lithium-ion battery
Magnetic earbuds click together when not in use, keeping the earbuds safely around your neck
Siri/Google Voice compatible
Noise-cancelling microphone blocks out steady state background noise like lawn mowers, engines, fans and vacuums, allowing for clearer calls in loud environments
SafeMax™ Technology with OSHA-compliant 85 dB volume limit helps to protect your hearing
Designed for hard use in working environments—IP67 dust-, sweat- and water-resistant
ANSI-certified 27 dB noise reduction rating (NRR)
Bluetooth 5.0 compatible
Includes Micro-USB charging cord, quick-start guide and travel pouch
(1) Pair of ISOtunes Xtra 2.0 Noise-Isolating Bluetooth Earbuds with Neckband
(1) Micro-USB charging cable
(1) Travel pouch
(1) Quick-start guide
More Information
Tech Spec

Brand: ISO TUNES
Bluetooth Version: 5.0
Ratings: IP67 dust, sweat, and water proof
Siri/Google Voice Compatible: Yes
Noise Reduction Rating: 27 dB (ANSI-certified)
Playback/Talk Battery Life: 11+ hours
Volume Limit: 85 dB (OSHA-compliant)