Jet 723520K 16-32 Drum Sander with Stand
Sand smooth, perfectly flat panels in just a few easy passes with the Jet 1632 Drum Sander.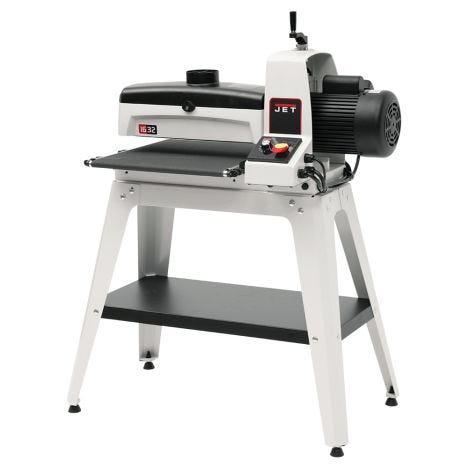 Additional Shipping and Handling Charge: $170
Sand panels up to 32'' wide in just two easy passes with the Jet 16-32 Drum Sander. One pass will sand a panel up to 16'' wide. Simple tool-free knobs let you adjust the drum parallel to the table to eliminate crowning and unsightly lines in the middle of panels over 16'' wide. Variable-speed dial lets you choose the optimal feed rate for a wide range of projects and wood species. Sandsmart technology continuously monitors the load on the drum motor and adjusts the feed rate to prevent overload. The mirrored design of the dust hood optimizes dust flow. Try the Jet Drum Sander today to achieve effortless, professional-quality surfaces.
Features:
Sandsmart technology continuously monitors drum load and adjusts conveyor speed accordingly
Parallelism of conveyor and drum is easily adjusted by turning a dial—no tools required
Stop on parallelism adjustment dial quickly returnss conveyor bed to flat position
Dust hood channel mirrors the shape of the drum to direct chips and dust to the port
Precision-machined extruded aluminum drum is designed to dissipate heat and minimize burning
Precision-flattened reinforced steel conveyor bed
Redesigned conveyor system pulls the workpiece through the sander instead of pushing
One rotation of the top-mounted handwheel adjusts the drum height by 1/16''
Relative depth scale on handwheel lets the user reset and measure the depth for every project
Infinitely variable speed control of up to 10 feet per minute allows optimal feed rate
Tool-free abrasive take-up clips make abrasive changes quick and easy
Snipe is virtually eliminated thanks to the adjustable tension rollers that apply downward pressure on the workpiece
Separate feed and drum motors provide independent control of conveyor and drum speed
Conveyor belt TRACKERS™ reduce the need for manual belt adjustments
Conveniently located controls
Stand has wide stance for stability, a storage shelf and pre-drilled holes for casters
Drum is easily removable and utilizes sealed and permanently lubricated ball bearings for longer life
(1) Jet 723520K 16-32 Drum Sander
(1) Open Stand
(1) 80-Grit Drum Wrap
More Information
Brand
Jet
Weight
182.000000
Tech Spec

Stand Footprint: 20'' x 37''
Drum Length: 1''
Drum Speed: 1,720RPM
Drum Diameter: 5''
Drum Bearing Diameter: 1''
Conveyor Motor 43 in.-lbs. torque, direct drive, DC
Conveyor Speed: 0 - 10 FPM
Maximum Board Thickness: 3''
Maximum Board Width: 32'' (two passes)
Minimum Board Length: 2-3/8''
Minimum Board Thickness: 1/32''
Dust Collection Minimum CFM Required: 400 CFM
Dust Port Outside Diameter: 4''
Motor Power: 1-1/2HP
Motor Phase: 1
Motor Voltage: 115V only
Motor Amps: 14
Recommended Circuit Size: 20A
This item will ship directly from the manufacturer.
Must be shipped within the 48 contiguous United States.
Please allow up to 7 business days for your shipment to be prepared.
Additional shipping charges may apply and will be noted below the price.
Items shipped by truck are delivered to the curbside only.
25% restocking fee on all returned merchandise.
Please call customer service before returning product.