MAS Penetrating Epoxy Sealer
Adds structural strength and protection against water—use for live edge tables, canoes, boats and for repairing wood rot.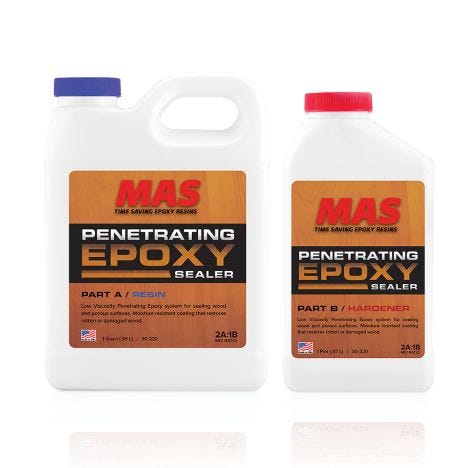 MAS Epoxies Penetrating Epoxy Sealer is ideal for wood repairs because it adds structural strength and protection against water. Use it to seal live edge tables, reinforce canoes, strengthen soft wood, repair window sills and fix wood rot. MAS Penetrating Epoxy Sealer is solvent-free (100% solids), ensuring excellent penetration and a complete cure. Solvent-free also means it's free of volatile organic compounds (VOCs), which brings added peace of mind.
Features:
Seals gaps and strengthens areas in rotten wood that are not visible externally
Packaged solvent-free epoxy sealer so you can use it without concerns of VOCs
Excellent penetrating power without adding your own solvent
Excellent for: window sills, deck repairs, door frames, boats, transom reinforcement and repairing soft or rotten wood
CAUTION EXOTHERMIC REACTION: Mixed epoxy generates heat. The more you mix, the hotter it will be. Must use after mixing. Only mix what you are ready to pour. May fume and smoke. Please visit the online FAQ before starting your project.
(1) MAS Penetrating Epoxy Sealer (1 resin, 1 hardener)
More Information
Brand
MAS Epoxies
Tech Spec

Brand: MAS Epoxies
Manufacturer Part Number: 30-220
Mix Ratio: 2 to 1 by volume
Tack Free Time: 10-12 hours at 75° F
Color: Light Amber