MirrorCoat® Bar/Tabletop Finish
Enhance and protect your bar or tabletop with a tough, glossy epoxy finish.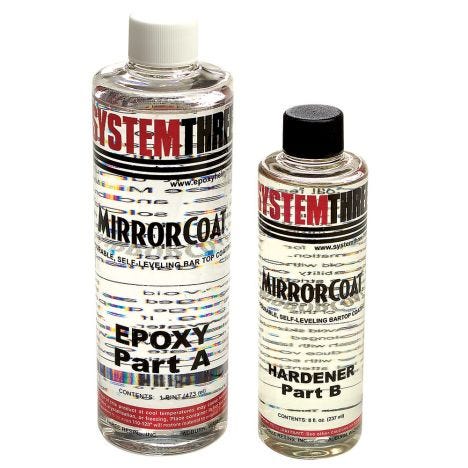 Obtain a gleaming, durable alcohol-proof and waterproof finish for your bar or tabletop! A pourable, self-leveling two-part epoxy coating, MirrorCoat works well on a variety of surfaces, including wood, ceramics, plaster, masonry and some plastics. Cures to a glossy, smooth finish that is scratch- and stain-resistant. May also be used as a decoupage coating on cloth, leather, photos and other objects.


Features:
Non-yellowing
Item #29129 (1.5 pint) includes 1 pint bottle of resin and 1/2 pint bottle of hardener and has approximate coverage of 2 to 3 sq. ft. at 1/16" thick
Item #29138 (1.5 quart) includes 1 quart bottle of resin and 1/2 quart bottle of hardener and has approximate coverage of 4 to 6 sq. ft. at 1/16" thick
This product is a 2-to-1 mix
(1) MirrorCoat® Bar/Tabletop Finish
More Information
Tech Spec

Cure Time: 3 - 5 Days
Coverage: 3 ounces / 1 square foot