Pathfinders Battering Ram Kit
Overcome barriers with this ''break-through'' mechanical model—all pieces are pre-cut and ready to go!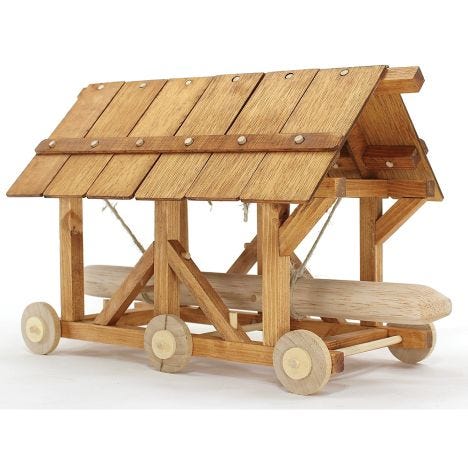 The Battering Ram was a formidable weapon, used to knock down walls and splinter the gates of fortresses, castles and villages throughout Europe and the Middle East for over 1000 years. This wooden building kit makes an authentic re-creation of a common design from ancient and medieval times. With rolling wheels and a swinging ram, you can lay siege to small castles around the house, and when not in use, have a cool model on display. Made with real wood and untreated plywood, you can stain the wood to give it that siege-worn look!
Features:
All pieces are cut and ready to go
Includes detailed instructions and historical information
Pieces are slotted and pegged for strength and ease of accuracy when building
Easy to make in a few hours
Made with die-cut plywood and real wood beams and battering ram
Completed model is 11.8'' x 6'' x 7.5''
Pathfinders Battering Ram Kit
(23) Die-cut plywood pieces

(56) Dowels

(24) Wooden pieces

(6) Wheels and wheel covers

(1) Sandpaper sheet

(1) Tube of glue
More Information
Brand
Pathfinders Design
Manufacturer Part Number
D-57
Weight
1.400000
Tech Spec

Manufacturer Part Number: D-57
Material: Die-cut plywood
Finished Dimensions: 11.8'' x 6'' x 7.5''