Pathfinders Gearbot Hydraulic Catapult Kit
A fun way to test the ballistic properties of marshmallows, grapes and more—all pieces are pre-cut and ready to go!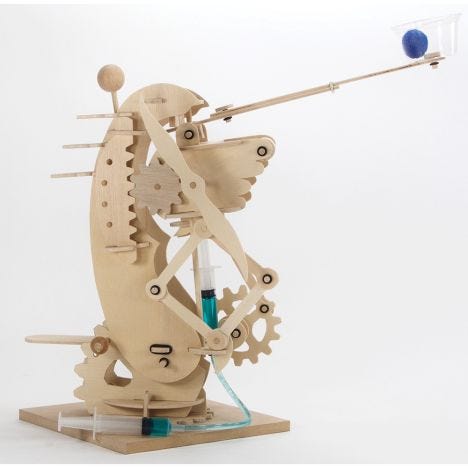 This DIY catapult uses hydraulic power to launch the projectile of your choice, be it popcorn or toasted oats. With the push of a water-filled piston, you set a whole range of fun movement into action. An intriguing mix of levers, hydraulics, rack and pinion gears, meshed gears, a spinning propellor, and extending scissory thing make for an immersive STEM experience. Test your launching skills for accuracy and distance with the clay projectiles, and experiment with launch angles, lever length and different projectiles. Safe enough that you can fire popcorn into a willing partner's mouth, and powerful enough that you can knock down small block walls. Comes with great instructions and educational material.
Features:
All pieces pre-cut and ready to go
Easy-to-follow instructions and educational information
Die-cut plywood pieces are slotted for strength and accuracy
Easy to make in a few hours
Completed model is 5'' x 7'' x 14''
Pathfinders Gearbot Hydraulic Catapult Kit
(41) Die-cut plywood pieces

(1) MDF base

(26) Wooden dowels and spacers

(2) Syringes and tubing

(36) Rubber O-rings

(1) Tube of glue

(1) Package of soft clay

(1) Plastic launching cup

(1) Elastic
(1) Sandpaper sheet
More Information
Brand
Pathfinders Design
Manufacturer Part Number
D-39
Weight
1.400000
Tech Spec

Manufacturer Part Number: D-39
Material: Pine and plywood
Finished Dimensions: 5'' x 7'' x 14''