Porter-Cable Door Hinge Template
Highly adjustable to accommodate different door thicknesses and hinge lengths.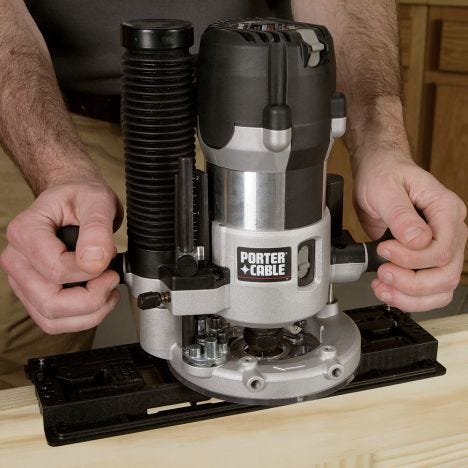 Porter-Cable's unique door hinge routing template is highly adjustable, allowing you to rout hinge mortises for various door thicknesses and hinge lengths. Once adjusted, just tap the included double-headed nails through the guide holes to hold it in place, and rout out your hinge mortise with the included bearing-guided router bit. The Door Hinge Jig is designed to be used on the door and the door jam. You'll be able to rout both the door and frame hinges for a complete door hanging solution.Bit included is ½" cutting diameter with 5/8" diameter bearing.
To insure proper installation, it features positive placement lock-in pins to enable quick and secure placement of the template to the door and jam. The Porter-Cable Door Hinge Template is also equipped with quick-adjust ratcheting router bit guide to accommodate 1/4", 5/8" radius and square-cornered hinges. Corner chisel required for square-cornered butt hinges (sold separately).
Features:
Double-headed nails ensure easy removal from door and frame
Accommodates 8 hinge sizes from 2-1/2" to 6" inclusive, in 1/2" increments
Used to rout both door and frame hinges for a complete door hanging solution
The extended template platform provides excellent router stability
(1) Porter Cable Door Hinge Template
(2) Ratcheting router bit guides
(4) Positive placement lock-in pins (2 spares)
(2) Double-headed nails
(1) High-speed steel bearing guided bit 1/2" cutting diameter w/ 5/8" bearing
(1) Instruction sheet
More Information
Brand
Porter-Cable
Manufacturer Part Number
59370
Weight
0.800000
Tech Spec

Router bit shank size: 1/4"
Accommodates doors of various thicknesses: 1-3/8", 1-3/4", 2", 2-1/4", and 2-1/2"
Accommodates 8 hinge sizes from 2-1/2" to 6" inclusive, in 1/2" increments

Type
Hinge Template