Rockler Easy-Fit T-Track Tape Measure Insert Kit
Add easy, accurate measurements to your T-track accessories- includes self-adhesive tape measure, plastic insert and hairline indicator.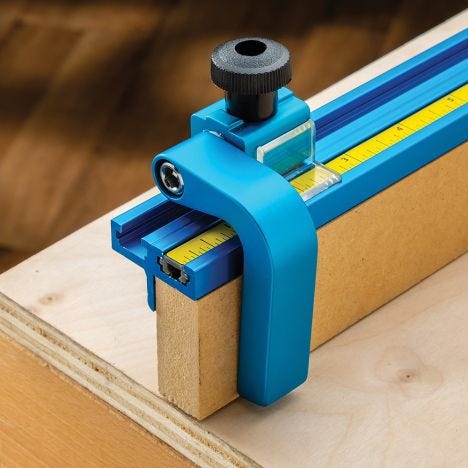 Need a measuring tape on your router table, fence, or T-track table? These 36'' plastic T-track tape measure inserts fit any universal T-Track to give you accurate measurements in increments of 1/16''. Use them for fast, foolproof adjustments of your fence stops (sold separately) or for general measuring. Ideal for use with Universal T-Tracks on our router tables, router table fences, drill press fences and our T-Track tables. Each tape comes with three 16'' plastic inserts with set screws for easy, wobble-free installation, plus an acrylic hairline indicator with adhesive backing that can be attached to Rockler Flip Stops (#26991 and #31214) or other homemade stops. The plastic insert is easily cut to length, and the 48'' steel measuring tape trimmed to match. The additional 12'' of length lets you cut the tape to start at a number greater than zero if you are a setting up a stop system on your cut-off fence.
Features:
Fits any universal T-Track to provide accurate measurements in increments of 1/16''
Plastic inserts interlock with dovetail key at one end and matching socket on other, and inserts can be easily cut to length
Inserts are injection-molded for better tolerances and have set screws for a wobble-free fit
Position can be locked in permanently, or set screws can be loosened slightly to allow repositioning
Includes adhesive-backed 48'' steel tape with measurements in 1/16'' increments, acrylic hairline indicator and a hex key
Note: Metal fence components and material stop are not included.
Rockler Easy-Fit T-Track Tape Measure Insert Kit
(3) 16'' glass-filled polypropylene inserts
(1) 48'' adhesive-backed steel tape with measurements in 1/16'' increments
(1) Adhesive-backed acrylic hairline indicator
(12) #8-32 nylon set screws
(1) Hex key
More Information
Brand
Rockler
Tech Spec

Brand: Rockler Innovation
Plastic Insert Length: 36'' (assembled)
Tape Measure Length: 48''
Scale Increments: 1/16''