Rockler Easy-to-Grip 5-Star Knobs - Threaded Stud
Designed for the ultimate in comfort with no sharp edges or annoying seams—the most comfortable jig knob you'll ever use.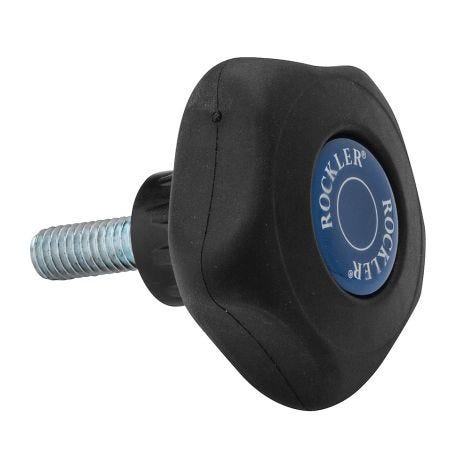 With their smooth, rounded contours, top-quality materials and proprietary rubber overmolds that wrap beneath the perimeter to eliminate sharp edges and seams, our Easy-to-Grip Knobs are hands-down the most comfortable jig knobs we've ever used. Try them out for yourself—you'll get more torque with less effort, and your hands will thank you for it. The rounded shaft beneath the star knob leaves plenty of clearance for your fingers, and curves up smoothly to meet the knob. Use them on jigs, fixtures, router tables, drill presses and more. They truly must be felt to be appreciated—''luxurious'' is not an overstatement.
Features:
Ultra-durable construction with comfortably molded gussets.
Zero sharp edges—rubber overmold extends beneath the knob for total comfort and easy tightening.
Available in three different threading sizes, each with a 1'' threaded stud.
(1) Rockler Easy-to-Grip 5-Star Knob, Male Threaded Stud
More Information
Brand
Rockler
Weight
1.000000
Tech Spec

Material: Polymer with thermoplastic rubber (TPR) overmold
Stud Length: 1''
Height (Projection): 1-1/2''
Overall Width: 2-1/4''

Type
Knobs