Rockler Workbench Caster Kit with Quick-Release Plates
Includes our Workbench Caster Kit for easy mobility without sacrificing stability, plus our Quick-Release Plates, which let you easily remove the casters to eliminate obstructions.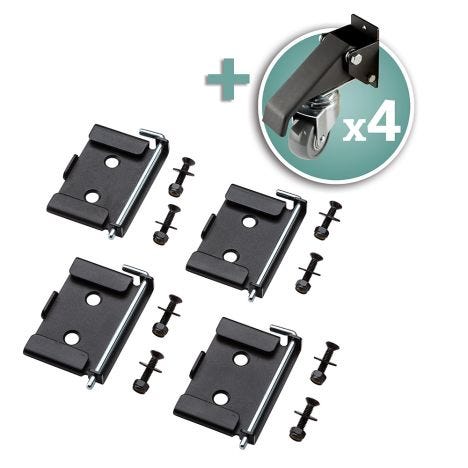 As low as $81.98 Regular Price $101.98
This set of four easy-spin 2-3/8'' urethane casters features a foot-activated lift mechanism that engages or disengages with the touch of your toe. Engage them to lift your bench 3/4'' off the floor for mobility, disengage them for stability while planing, pounding and chiseling. Each caster is constructed of durable steel and rated for 100 lbs.—that's 400 lbs. of total capacity with the 4-pc. set! Includes all mounting screws for easy installation.
Package includes a full set of Quick-Release Plates!
Our Quick-Release Plartes allow you to quickly remove your Workbench Casters so you can access all sides of your workstation without obstructions. Simply removing the pins and the casters slide out so the caster levers won't protrude and interfere with your movement around the bench. If your bench has an overhang, you can also store items such as a shop vacuum under the overhang without obstructions. Includes hardware for mounting to a 3/4'' panel. Longer bolts may be required for thick workbench legs.
(4) Workbench Casters
(8) Mounting Screws
(4) Quick-Release Plates for Rockler Quick-Release Workbench Casters
(4) Locking Pins
(4) 1/4-20 Nylon Lock Nuts
(4) Washers
(4) 1/4-20 Countersunk Philips Head Bolts
(1) Set of Instructions with Template
More Information
Brand
Rockler
Tech Spec
Workbench Casters


Caster Diameter: 2-3/8''
Material: Steel
Finish: Satin Black
Caster Weight Rating: 100


Quick-Release Plates


Material: Steel
Finish: Black Powder-Coating