Shaper Plate for Origin Handheld CNC
A universal template routing platform—complete with stops, fences and clamps—for your Shaper Origin Handheld CNC (e.g. #67155, sold separately).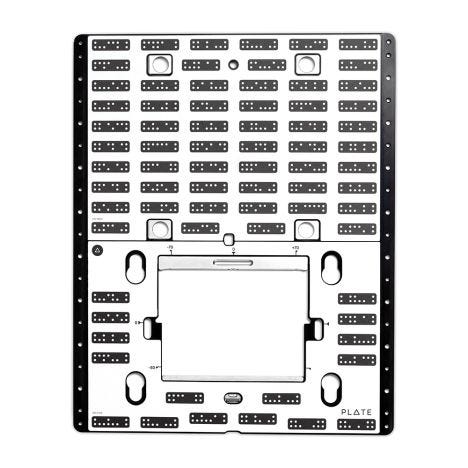 Shaper Plate functions as a universal template routing platform for your Shaper handheld CNC router. Its cut window measures 4-3/4'' x 6-1/4'', perfect for small scale work like routing hinge pockets for Euro hinges, mortises for butterfly keys, sets of 32mm system shelf holes and small carvings and engravings. The trademark domino pattern that Shaper uses to locate itself is permanently printed onto Shaper Plate, meaning you can get right to work without the time and expense of laying down tape. Shaper Plate integrates seamlessly with ShaperHub's extensive collection of vetted digital hardware files—choose from hundreds of hardware items to easily rout mortises, hinge cup holes and more.
Shaper Plate Details:
Acts as a universal template for installing a wide range of hardware, inlay bowties, radiused corners, 32mm system holes and more
Works seamlessly with ShaperHub's Hardware Catalog—a collection of hundreds of vetted digital hardware files
Say goodbye to drawers full of hardware templates—Shaper Plate lets you do it all with one
Anti-slip backing allows use without clamps in light routing situations on most surfaces
Included low-profile clamps are there for routing on low-friction surfaces or when making deeper cuts
Multiple pop-up ''flags'' (stops) and a fence allow for adaptable fixturing on virtually any workpiece
Plate's pull-down reticle makes it simple to align with marks on your workpiece
System 32 Pin lets you piggyback 32mm system holes with perfect alignment
Shaper Plate for Origin Handheld CNC
(1) Shaper Plate
(1) T-LOC MINI-Systainer
(2) Low Profile Clamps with 60mm Throat
(1) 32mm system pin
(1) Set of leveling feet
More Information
Brand
Shaper
Manufacturer Part Number
SV1-AA
Weight
10.400000
Tech Spec

Brand: Shaper
Manufacturer Part Number: SV1-AA
Plate Width: 14-1/4''
Plate Height: 17-3/4''
Plate Thickness: 1/4''
Plate Weight: 4.5lbs
Cut Window Width: 6-1/4''
Cut Window Height: 4-3/4''
Clamp Throat Depth: 2-3/8'' (60mm)