What makes Next Wave CNC unique?
Next Wave Automation makes CNC machines with stunning, computer-controlled accuracy, stalwart reliability and USA-made quality at an amazingly affordable price. Born when founder Tim Owens designed and built his first CNC machine out of his garage—and it sold almost immediately—Next Wave has filled the demand for high-quality woodworking CNCs at a great price. Owens went on to build the company into the proven CNC maker it is today. With manufacturing based in the USA, unparalleled accuracy, reliability and support, Next Wave Automation has garnered a loyal following of customers. CNC Shark models are available in just about any size, and with numerous add-on accessories, including laser engravers, a 4th axis and water-cooled spindles.
Why buy Next Wave Automation from Rockler?
Rockler has a long-standing relationship with Next Wave Automation, offering a long line of CNC machines going back to the very first CNC Shark. Rockler was the exclusive dealer of Next Wave CNCs for many years, and our staff has a deep knowledge of the product line. Today, we offer a full line of CNC Sharks and most available accessories. With a staff that's committed to your satisfaction, we can help you select the CNC Shark that best fits your needs. If you're buying online, our expert tech crew is available by phone to answer any questions you might have. We also offer our Rockler Protection Plan, which can keep your projects rolling in the event of a problem. At Rockler, you get the better half of a century of experience in woodworking, so you can feel confident in your CNC purchase.
CNC Shark HD520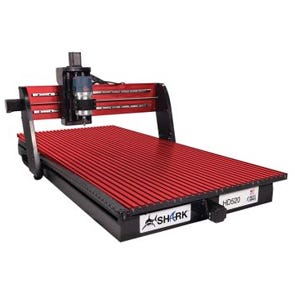 As Next Wave's flagship CNC machine, the Shark HD520 features steel-encased gantry legs for incredible rigidity, Virtual Zero Unlimited software and a table that measures a full 63'' long! XYZ travel is 25'' x 50'' x 7''.
CNC Shark HD510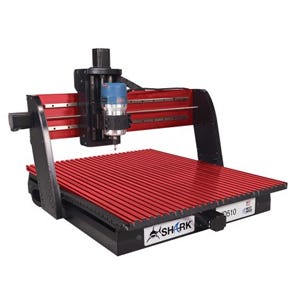 The Shark HD510 CNC machine features the same rigid, steel-encased gantry legs and Virtual Zero Unlimited software as its larger brother, but has a smaller 28'' x 36'' table. XYZ travel is 25'' x 25'' x 7''.
CNC Shark HD500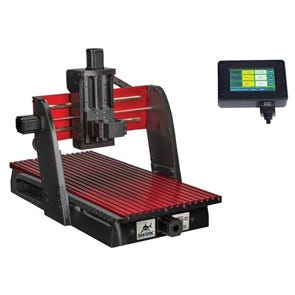 Next Wave's Shark HD500 mid-sized CNC machine offering boasts a 16'' x 36'' table, robust linear gantry rails, and an aluminum router mount that supports routers up to 2-1/4HP. XYZ travel is 13'' x 24'' x 7''.
CNC Shark SD120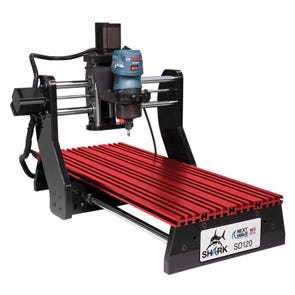 With 24'' of Y capacity, numerous automatic alignment features and Virtual Zero software, the Shark SD120 CNC machine packs a powerful bite. The table is narrow but long, at 12'' x 30'', and XYZ travel is 12'' x 24'' x 4''.
CNC Shark SD110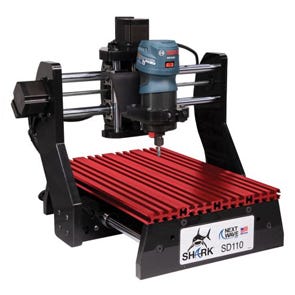 A full-featured mini CNC machine with a compact 12'' x 18'' table, software and an included touch-screen interface, the Shark SD110 lets you get into CNC machining with a minimum of space. XYZ travel is 12'' x 13'' x 3''.
CNC Shark SD100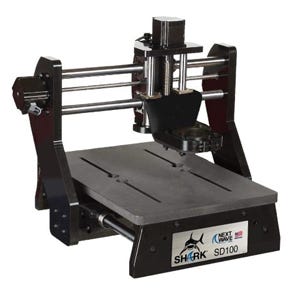 As Next Wave Automation's most affordable CNC machine, the Shark SD100 boasts the same 12'' x 18'' table and 12'' x 13'' x 3'' XYZ travel as the SD110, but is more stripped-down feature-wise for the lowest possible price!
Hear from Next Wave Automation customers
"I love this thing. The VCarve software is pretty intuitce and I had it up and running within a few hours." - Scott
"Unbelievably amazing for its size and cost! The machine is so simple to use. VCare Pro is awesome & simple yet prety darn powerful for what it is." - Rob M.
"I bought this machine for my husband and he loves it! I can't get him out of his workship! This is a great buy for th eprice if you want to use a CNC machine." - Gina R
"This little CNC Machine performs at a professional level! The VCare software is so simple to use and comes with numerous tutorial videos." - Todd B.
What will you create? The possibilities are endless!