Double Aluminum Pullout Waste Containers, Rev-a-Shelf 5349 Series
Rev-A-Shelf 5349 series-double pullout removable waste containers in a variety of shapes and sizes, polymer or stainless steel waste containers with door mount kits, 150 lb. full-extension soft close ball bearing slides.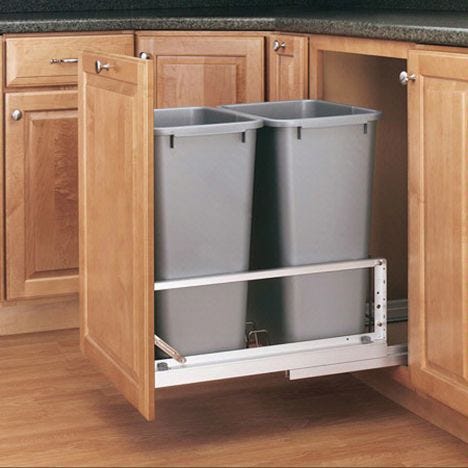 Pull-Out Waste Containers come in a variety of shapes and size, for virtually any application. This Premiere Series full extension, heavy-duty aluminum slide system features fully adjustable door mounting with ramp in soft closing. It is available with various sizes and quantities of Polymer or Stainless Steel Containers to fit your specific needs.
Features:
Removable container(s) for easy cleaning underneath
Features full-extension soft close ball-bearing slides
Door mount kit included to mount cabinet door to waste container
(1) Double Aluminum Pullout Waste Containers, Rev-a-Shelf 5349 Series
More Information
Brand
Rev-A-Shelf
Tech Spec
Item #1001691 (Double 27 Quart Pull-Out Waste Container):

Dimensions: 11.688"W x 18.938"H x 22.25"D
Min. Cab. Opening: 11.75"W x 19.25"H x 22.875"D


Item #1001692 (Double 27 Quart Pull-Out Waste Container):

Dimensions: 11.688"W x 18.938"H x 22.25"D
Min. Cab. Opening: 11.75"W x 19.25"H x 22.875"D


Item #1002109 (Double 32 Quart Pull-Out Waste Container):

Dimensions: 14.813"W x 18.813"H x 22.125"D
Min. Cab. Opening: 15"W x 19.625"H x 22.125"D


Item #1001700 (Double 35 Quart Pull-Out Waste Container):

Dimensions: 14.813"W x 19.25"H x 21.875"D
Min. Cab. Opening: 15"W x 19.625"H x 22.125"D


Item #1002278 (Double 35 Quart Pull-Out Waste Container):

Dimensions: 14.813"W x 19.25"H x 21.875"D
Min. Cab. Opening: 15"W x 19.625"H x 22.125"D


Item #1002218 (Double 50 Quart Pull-Out Waste Container):

Dimensions: 14.813"W x 22.938"H x 22.125"D
Min. Cab. Opening: 15.75"W x 23.25"H x 22.625"D


Item #1001690 (Double 50 Quart Pull-Out Waste Container):

Dimensions: 14.813"W x 22.938"H x 22.125"D
Min. Cab. Opening: 15.75"W x 23.25"H x 22.625"D




Slide Type: Ball-Bearing
Slide Closing: Self
Slide Mounting: Bottom Mount
Slide Extension: Full
Slide Length: 22"
Slide Finish: Brushed Aluminum
WARNING:

This product can expose you to chemicals which are known to the State of California to cause cancer and birth defects or other reproductive harm. For more information go to www.P65Warnings.ca.gov/product