Sjobergs Scandi Plus Workbench 1825 with SM03 Cabinet and Accessory Kit
Designed for professional woodworkers and discerning hobbyists alike—includes the SM03 storage cabinet and a versatile accessory kit.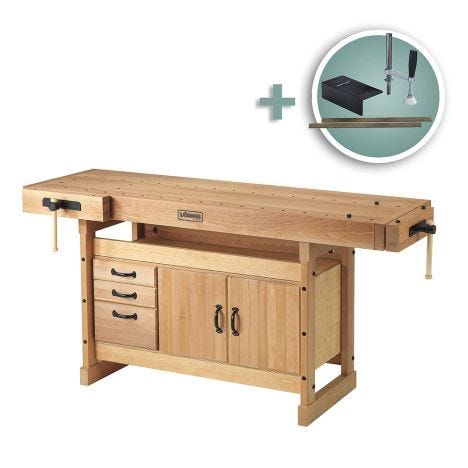 Additional Shipping and Handling Charge: $150
Ships directly from the manufacturer.
Must be shipped within 48 Contiguous United States.
Estimated Vendor Lead Time: 7-10 business days.
20% restocking fee on all returned merchandise.
Please call customer service before returning product.

The Sjobergs Scandi Plus line of workbenches is perfectly suited for the demanding work of professional woodworkers and serious craftsmen. This package includes a base cabinet for storing and organizing your tools, and a versatile accessory kit. For strength, the tops are constructed with full-length laminations of knot-free European beech, without any ugly splices. With a thickness of 1-1/2'' in the center, and a skirt of 4-5/16'', the top is extremely strong. Solid beech is also used in the preassembled trestle frames. The bench has two double rows of 3/4'' dog holes, working from both the front and tail vises, as well as dog holes in the trestle legs for a wide variety of clamping options. Includes four unbreakable bench dogs with side springs to ensure that they stay at the desired height. The dogs automatically adjust to non-parallel workpieces. Made in Sweden, Sjobergs Scandi Plus workbenches are built to provide a lifetime of hard use and enjoyment.
Features:
Tops are extremely strong—1-1/2'' thick in the middle, and 4-5/16'' around the edge
Vises have a 4-1/2'' opening capacity
Double rows of bench dog holes extend from both vise locations
Trestle is pre-drilled with dog holes for clamping boards sideways
Included cabinet with doors and drawers offers convenient tool storage and added mass, which further eliminates vibration
Includes four 3/4'' round plastic/glass fiber bench dogs
Package includes the SM03 Cabinet and Sjobergs Scandi Plus Workbench Accessory Kit!
Cabinet is made from solid beech and birch plywood, and features three drawers and a large compartment with doors make for easy access to your tools. Adds mass to dampen vibration and reduce shifting. Accessory kit includes a sturdy holdfast for flexible clamping options, an anvil to protect your bench, and jaw liners to protect delicate workpieces. The holdfast slips into dog holes in the benchtop for clamping items horizontally, or in the trestle legs for clamping large boards or doors on edge. It swivels 360° and slides vertically to accommodate different stock thicknesses. The Sjobergs Universal Anvil slips into the dog holes along the edge of your workbench for working with metal or to protect the top during heavy pounding. It is adjustable to fit workbenches with both 3/4'' and 1'' diameter dog holes. A set of JC11 peel-and-stick jaw protectors is also included to protect both the vise jaws and delicate workpieces from marring.
(1) Sjobergs Scandi Plus Workbench 1825
(4) 3/4'' Plastic/Glass Fiber Bench Dogs
(1) SM03 Cabinet
(1) Sjobergs ST11 Holdfast, 3/4'' Lug
(1) Sjobergs Universal Anvil UA-13
(1) Set of JC11 Jaw Cushions
More Information
Brand
Sjobergs
Weight
211.000000
Tech Spec

Material: Beech
Length of worktop: 70-3/32'' (1730 mm)
Total length: 73-5/32'' (1858 mm)
Width of worktop: 22-13/16'' (580 mm)
Total width: 27-15/16'' (710 mm)
Thickness of worktop (in middle): 1-1/2'' (38 mm)
Thickness of skirt: 4-5/16'' (110 mm)
Vise capacity: 4-1/2'' (115 mm)
Working height: 35-7/16'' (900 mm)