Starter Kit for Rockler Ceiling Track System
Hang cords, hoses, tools, lighting or cabinet doors for spraying—kit includes everything you need to start using the system!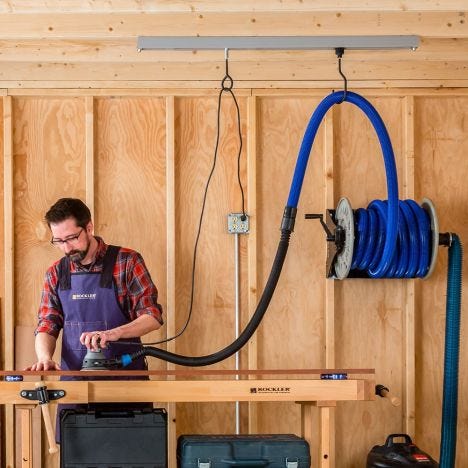 This kit is a convenient way to start enjoying the benefits of the Rockler Ceiling Track System. The hooks keep your cords and hoses off the ground, but roll freely along the track so you can sand, saw and rout without fighting with them. They can also be used to hang doors for finishing or to hang tools and utility lights. The kit includes all of the key components, providing a base from which you can easily expand. This consists of a 4' ceiling track that accepts two rolling trolleys—one that rolls but can be locked in place, and one that rolls freely. Each trolley accepts either of the two included hooks: a Ring Hook and a 2-1/2'' J-Hook. Two end stops are included for the ends of the track. At 4' long, the track is enough to span most workbenches, and maybe that is all you need. But if you want to expand the system, you'll quickly discover which elements are most useful to you.
Features:
Lifts cords and hoses off the floor, minimizing wear and tear
Keeps dust hoses from dragging over the edge of your workpiece as you sand, saw and rout
Reduces tangling of cords and hoses and reduces the risk of tripping
Ring Hook accepts most extension cords and standard quick-release air fittings
2-1/2'' J-Hook accepts a variety of hoses, including 2-1/2'' dust hose
(1) 4' Track Section
(1) Locking Trolley
(1) Non-Locking Trolley
(1) 2-1/2'' J-Hook
(1) Ring Hook
(2) Track Stops
(1) Set of mounting hardware
More Information
Brand
Rockler
Tech Spec

Weight Capacity (total for track): 60 pounds
Weight Capacity (per hook/trolley assembly): 20 pounds
Ring Hook Inside Diameter: 1-1/2''
J-Hook Inside Diameter: 2-1/2''
Track Material: PVC