The Workbench—A Complete Guide to Creating Your Perfect Bench, Book
Build or buy the bench that suits your needs—this book will be your guide.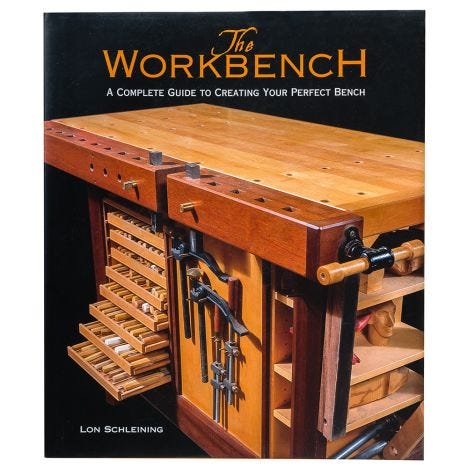 In this contemporary look at the world of workbenches, Lon Schleining takes us on a guided tour of a wide variety of classic, modern, and specialty benches and offers hundreds of options for choosing or building that perfect bench and its accessories. This is a fresh look at the classic subject with a focus on helping readers find the right bench and accessories for their needs. The object is to guide the reader through making critical choices, including whether to buy it or build it. With nearly 300 photos and drawings, this book provides in-depth information along with the inspiration to fulfill workshop dreams.
Content:
Introduction
1. The Perfect Bench; What Kind of Woodworking Do You Do?, Locating the Bench, Bench Size, Weight, Height, A Comfortable Bench Area, Designing Your Bench
2. Workbench Tops; Benchtop Dimensions, Top Configuration, Tool Trays, Materials for Tops, Keeping the Top Flat, Flattening a Benchtop, Fastening the Top to the Base, Finishing the Top
3. A Solid Foundation; Base Configuration, Frame Bases, Base Joinery Options, Strengthening the Base, Legs Made from Metal, Enclosed Bases, Leveling the Bench, Electrical Power
Getting a Grip; Locating Vises, Types of Vises, Screw Mechanisms, Manufactured Vises, Shop-Built Vises
5. Holding Your Work; Bench Dogs, Stops, Holdfasts and Hold-Downs, Board Jacks, Bench Hooks, Fixtures and Auxillary, Tables
6. Bench in a Box; Bench Components, Manufactured Benches of the Past, Contemporary Bench Makers
7. No-Frills Benches; Getting Down to Basics, Sam Maloofs Bench, Building the Bench, Niall Barretts Bench, Building the Bench
8. Tradition Meets the Twenty-First Century; English-Style Workbenches, Building the Bench, European Traditions, Building the Bench, The Best of Old and New, Building the Bench, Shaker with a Twist
9. Innovative Workbenches; A Different Kind of Benchtop, The Torsion Box, Storing Large Worktables, Thinking Outside the Box
10. Benches for Special Tasks; Assembly and Finishing, Portable Workbenches, Benches for Working on Irregular Parts, Other Woodworking Specialties, Dedicated Task Benches
Resources
Index
About the Author:
Lon Schleining, a stairbuilder, woodworking instructor, and licensed contractor, is a frequent contributor to Fine Woodworking magazine. He lives in Long Beach, California.
(1) The Workbench—A Complete Guide to Creating Your Perfect Bench Book
More Information
Manufacturer Part Number
70720
Weight
2.450000
Tech Spec

Published Date: 2005
Dimensions: 9-3/16 x 10-7/8
Photos: Color photos

Cover Style
Hard Cover
ISBN
978-1-56158-594-6
Pages
208
Author
Lon Schlening
Topic
Woodworking, Workbenches