Tormek T-4 Sharpening System
Keep a razor-sharp edge on a variety of tools with this full-service water-cooled system.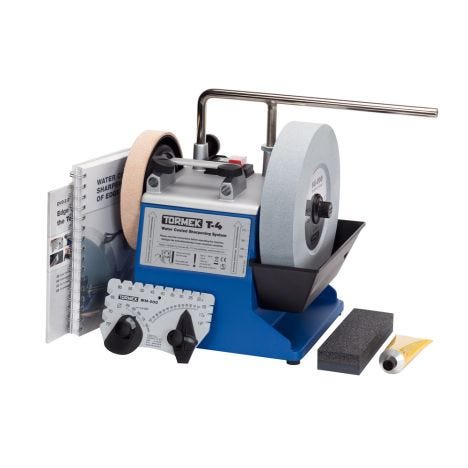 Tormek has long been a benchmark for water-cooled sharpening systems, and the T-4 continues that strong tradition. Like previous models, the slow-speed 220-grit grindstone removes only minute amounts of steel to prevent overheating and maintain the steel's hardness and quality. The leather honing wheel lets you final polish the edge to a wood-sheering sharpness. Its industrial-strength 120W motor is very durable, and surprisingly quiet at only 52 dB. The T-4 now comes with a Stone Grader for dressing your wheels, as well as an AngleMaster gauge, tube of honing compound, explanatory handbook, and an instructional DVD.
Features:
Shape tools exactly to your needs—easily sharpens even complicated shapes
Once shape is created, you can resharpen the edge in less than a minute
Low speed allows you to fully control the sharpening
No sparks are produced, eliminating risk to your eyes
Main shaft and stone hardware made from stainless steel
New features on the T-4:
Sleeves for the universal support are now cast into the zinc top with stadium-shaped holes for improved accuracy
Shock-resistant ABS lower housing
Machine plate (front tag) is metal, making it a convenient place to store the Anglemaster, which has magnetic feet
Carrying handle makes it easy to transport without being tempted to lift the machine by the universal support
Now includes a stone grader rather than the Square Edge Jig
For added convenience and versatility, combine your Tormek Sharpener with the available Tormek Rotational Base (Sold Separately). With click-and-twist simplicity, you can now rotate your Tormek Sharpener in seconds to go from sharpening to honing, or from knives to chisels, both of which require the wheel to move in opposite directions relative to the blade.
(1) Tormek T-4 Sharpening System
(1) SP-650 Stone Grader
(1) WM-200 Anglemaster
(1) PA-70 Honing Compound
(1) HB-10 Handbook
(1) Tormek DVD
More Information
Brand
Tormek
Weight
22.300000
Tech Spec

Dimensions: 230 mm (9-1/16'') wide x 200 mm (7-7/8'') deep x 260 mm (10-1/4'') high
Shipping weight: 9.8 kg
Machine weight: 8.0 kg
Main Shaft: Stainless steel main shaft and stone hardware
Housing: Zinc cast top; impact resistant ABS plastic
Grindstone: Tormek Original Grindstone, 200mm dia. x 40mm wide, 120 RPM, torque 8.4 Nm
Leather Honing Wheel: 145 mm diameter x 26 mm surface width (5-3/4'' x 1'')
Motor: Industrial single phase; 120W (input); 230 V, 50 Hz or 115V, 60 Hz; Duty 30 min/hour, 10,000 hour life
Noise: 52 dB

Style
Grinder