Walrus Oil Furniture Finish
Polymerizing oil finish provides protection, brings out the natural beauty of the wood and dries to a gorgeous matte sheen.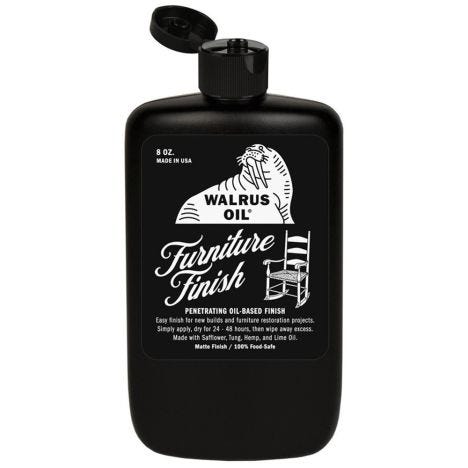 Walrus Oil's Furniture Finish is a curing oil made of polymerizing safflower oil, hemp seed oil, and a hint of lime for freshness. Ideal for hardwood chairs, dressers, picture frames and other woodworking projects that call for a curing oil, Furniture Finish brings out the natural colors of the wood and dries to a beautiful matte sheen. Simply apply the oil, let dry for 24 to 48 hours, and wipe away the excess. Fully cures over time, usually by 4 weeks. Store in a cool, dry place.
Features:
Polymerizes/cures to provide protection and a rich satin sheen
Easy to apply—just wipe on, let dry and wipe away the excess
100% plant-based
Made in USA
(1) Walrus Oil Furniture Finish
More Information
Tech Spec

Brand: Walrus Oil
Manufacturer Part Number: WALRUS-0501
Quantity: 8 oz.
Cure Time: 48 hours; full cure after about 4 weeks
Storage: Store in a cool, dry place