Woodworker's Journal Getting Started in Woodturning DVD
An excellent primer for anyone wanting to learn the fun, rewarding art of woodturning.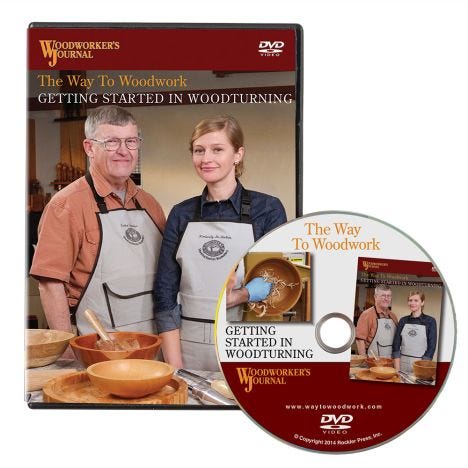 Woodturning is growing in popularity as people of all stripes discover that it is inexpensive and easy to get started in this practical, fun and creative craft. This entertaining full-length DVD teaches everything you'll need to know to start woodturning safely and with more than enough knowledge to have fun right from the start.
This DVD includes sections on:
Woodturning tools and how to use them
The parts of a lathe and what they do
Spindle turning: cutting coves and beads, using spindle gouges, skews and scrapers
Bowl turning (face plate turning): mounting large blanks and mastering the bowl gouge
Sanding and finishing on the lathe
In addition, we've included a bonus sharpening section teaching how to get your tools sharp and keep them that way. Ernie Conover: With more than 40 years of experience teaching woodturning, Ernie is the perfect person to instruct people beginning in the craft of woodturning. A talented woodworker across the spectrum of woodworking, he was also one of the founding members of the American Association of Woodturners. Kimberly McNeelan: A professional woodworker and author, Kimberly brings a fresh and artistic bent to her woodworking. Her focus is "aesthetically pleasing and functional wood furniture." A regular contributor to Woodworker's Journal magazine and website, Kimberly is a rising star in the world of woodworking.
(1) Woodworker's Journal Getting Started in Woodturning DVD
More Information

| | |
| --- | --- |
| Brand | Woodworker's Journal |
| Manufacturer Part Number | WWJ DVD GET STARTED |
| Weight | 0.150000 |
| Author | Ernie Conover |
| Topic | Turning, Woodworking, Lathe |