12-Tooth Standard Rip Blade for Festool TS 55 Plunge Cut Saw (496305)
Coarse carbide teeth and an aggressive hook angle for fast ripping in both hardwoods and softwoods.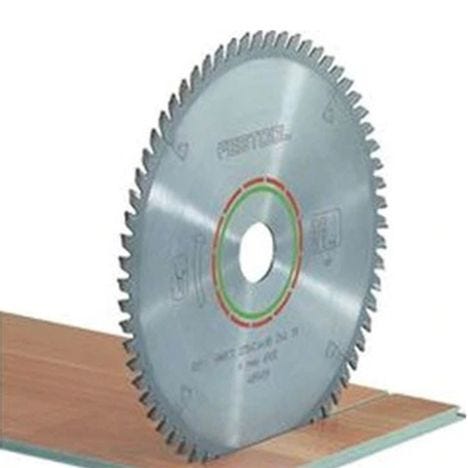 Festool saw blades are engineered for cutting efficiency, long-life, and superior cutting results. The Standard Ripping Blade is an excellent choice for fast ripping of hardwoods and softwoods. Its offset ATB (Alternating Top Bevel) teeth allow the blade to cut alternately to the left and right for a cleaner cut in all types of wood. The thin kerf means less resistance and less waste. Laser cut expansion slots reduce vibration for faster, quieter cutting. An oversized 20mm arbor holds securely, further reducing vibration.
Features:
12 tooth; 2.2mm kerf; 20mm arbor; 20 deg hook angle; ATB
Coarse cutting rip blade for construction sheathing, wood and soft plastics
Oversized arbor for more secure fastening and less vibration
Thin kerf for less resistance and less waste
(1) 12-Tooth Standard Rip Blade for Festool TS 55 Plunge Cut Saw (496305)
More Information
Brand
Festool
Manufacturer Part Number
496305
Weight
0.650000
Tech Spec

Tooth Count: 12T
Kerf Width: 2.2mm
Hole Diameter: 20mm
Hook Angle: 20°
Tooth Pattern: ATB
Blade Diameter: 6-1/4'' (160 mm)