Amazing Casting Resin, 16 fl. oz. Kit
Cast your own turning blanks, tool handles, knobs and decorative objects—cures to a rigid white plastic in only 10 minutes!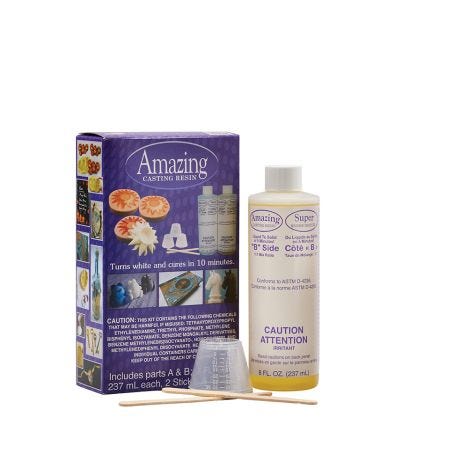 Amazing Casting Resin, also known as Alumilite White, is an easy to use white urethane resin that creates a durable casting with intricate details. Use it to replicate any shape you want into a rigid, durable plastic that can be sanded, sawed, drilled, tapped and painted. You can also cast your own turning blanks—the material turns like butter. Since it's a thermosetting resin, it won't melt once cured. Transitions from a clear liquid to opaque white in just 10 minutes. Can be colored with our wide selection of Alumilite opaque and translucent dyes (e.g. #67408, sold separately).
Amazing Casting Resin, 16 oz. Kit
(1) 8 fl.oz. bottle side A
(1) 8 fl.oz. bottle side B
(2) Measuring cups
(2) Stir sticks
(1) Set of instructions
More Information
Brand
Alumilite
Weight
1.350000
Tech Spec

Brand: Alumilite
Manufacturer Part Number: AL10580
Product: Alumilite White
Color: White
Mix Ratio: 1:1 by weight or volume
Pot Life: 2 minutes
Demold Time (100 gram mass): 5-10 minutes
Mixed Viscosity (cps): 90
Specific Gravity: 1.05
Shore Hardness (ASTM D2240): 72 D
Shrinkage (in./in.): .006
Tensile Strength (ASTM D638, psi): 4500
Elongation (in./in.): 10%
Temperature Resistance: 185°F