Axiom Iconic 4 CNC Router
Redefines ''entry level'' with an industrial-quality 1.1HP electro-spindle, pendant controller and rigid steel frame—compact yet powerful!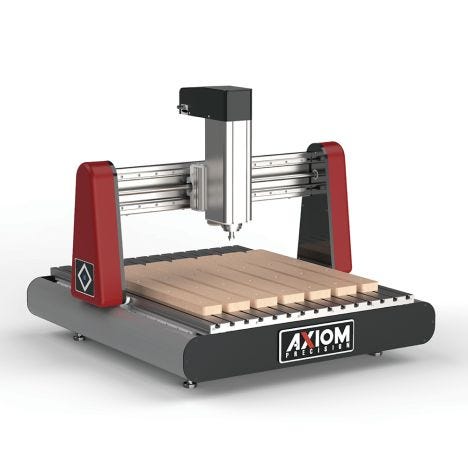 Additional Shipping and Handling Charge: $299
Software is not included with the machine. We recommend the following software depending on your needs: Vetric VCarve Pro Software V10 (Item #58150), Vetric VCarve Desktop Software V10 (Item# 57318), Vetric Aspire V10 (Item# 59990), Vetric Photo VCarve Software (Item# 54822 )
Ships directly from the manufacturer.
Must be shipped within 48 Contiguous United States.
Estimated Vendor Lead Time: 1 week.
20% restocking fee on all returned merchandise.
Please call customer service before returning product.
The Axiom Iconic CNCs redefine ''entry level'' with industrial-quality components and superior technology. Available in three sizes, the Iconic machines feature a 1.1HP electro-spindle, prismatic guides, ball screws, and the same powerful, yet easy-to-use DSP pendant controller used on the larger Axiom machines. Compact and cost-effective, they represent an ideal entry point to the world of CNC. Supported by a comprehensive manual, video library, lifetime technical support, and a full complement of available accessories, the Iconic series has the potential to dramatically shorten a new user's learning curve.
Features:
24'' x 24'' x 4'' working envelope (nominal)
USB port for easy file transfer (no PC required)
Pendant DSP included (no PC required)
800W (1.1HP) electro spindle included
Sacrificial MDF spoilboard
Ball screws in all axes
Prismatic guides in all axes
Magnetic proximity switches
Rigid steel frame
Robust extruded aluminum T-track table surface
Optional stand and tool storage available
Lifetime technical support
(1) Axiom Iconic 4 CNC Router
(1) Tool touch-off device
(1) DSP pendant controller
(1) Electro spindle
(1) Owner's manual

With the Rockler Protection Plan, you'll get accidental damage coverage immediately upon purchase of your tool. Plus, we will extend the manufacturer's warranty for your choice of an additional 1 or 2 years. We'll take care of all parts and labor for any repairs, with no deductibles and no hassles. If your tool can not be repaired, we'll gladly replace it. Available in the US only. Click here to learn more. Standard Manufacturer's Warranty: 12 months
More Information
Brand
Axiom
Manufacturer Part Number
ICONIC4
Tech Spec

X-Axis Travel: 23.81'' (605mm)
Y-Axis Travel (Iconic-4): 24.01'' (610mm)
Z-Axis Travel: 3.937'' (100mm)
Table Work Area (Iconic-4): 28.4'' X 37''
Electro Spindle: 800W (1HP)
Includes Collets: 1/4'' and 1/8''
Spindle Speed: 0-24,000 RPM
Rapid Feed Rate: 150 IPM (3.81 MPM)
Precision Linear Guideway: X/Y/Z
Precision Ball Screw: X/Y/Z
Ball Screw Diameter: 16mm
Positional Accuracy: +/- .00589'' (0.15mm)
Power Requirements: 115V, 50~60Hz, 13A, 1-Phase
Working Table: High Rigidity Aluminum Extrusion
Gantry Bridge: High Rigidity Aluminum Extrusion
Gantry Supports: Aluminum Billet Machined
Max Gantry Clearance: 5 1/2'' (139.0mm)
Gantry Clearance Above Spoil Boards: 4-1/2'' (114.3mm)
Machine Base: All Welded Steel Frame
Machine Dimensions (Iconic-4): 38''L X 35''W X 28''H
Machine Weight (Iconic-4): 176 lbs
Tool Touch Off: Included
Controller: RichAuto B11 DSP