The Axiom AHC109 Lateral Clamp Kit provides a low-profile, obstruction-free way of securing your work to the table of your Axiom CNC Router.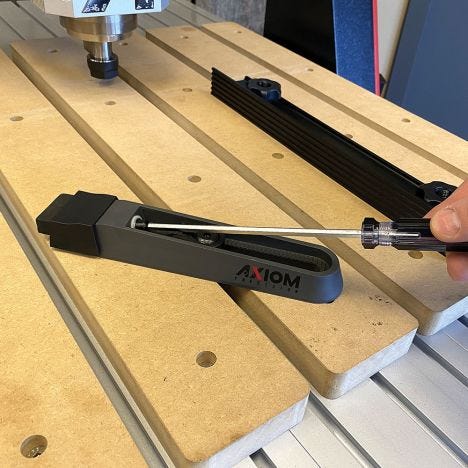 Direct Ship - Estimated Ship Date: 10/04/2023
The Axiom AHC109 Axiom Lateral Clamp secures your work with sideways pressure, eliminating the obstruction of traditional hold-down clamps on the top surface of your work. The kit includes two fences, and two low-profile clamps, which exert sideways pressure, pushing your work against the two fences. Each clamp also includes two foot types: one standard, and one soft rubber, which compresses to form to curved edges, and also provides additional clearance for the bit at the edge. The clamps offer immense holding power without marring the edge of your workpiece.
Axiom Lateral Hold Down Clamp Kit Details:
The perfect solution for fast, secure, repeatable clamping operations without obstructions on the top face
Clamp body is made from glass-filled resin and features 3/8'' clamping travel with the hex key operated screw
Clamps measure 7-1/4'' x 1-1/2'' x 1'' tall
Fences are made from extruded aluminum with pebble-texture and anodizing
Fences measure 14'' x 2'' with option of 1/2'' or 1-1/4'' height
Designed specifically to fit the integrated T-slots on all Axiom Precision CNC machines
Axiom Lateral Clamp Kit
(2) Lateral clamps
(2) Serrated clamp tips
(2) Non-marring EVA rubber clamp tips
(2) Dual-height extruded fences
(1) Hex driver for tightening
More Information
Brand
Axiom
Manufacturer Part Number
AHC109
Weight
3.000000
Tech Spec

Brand: Axiom
Manufacturer Part Number: AHC109
Clamp Dimensions: 7-1/4'' x 1-1/2'' x 1'' tall
Fence Material: Extruded aluminum with pebble-texture and anodizing
Fence Dimensions: 14'' x 2'' with option of 1/2'' or 1-1/4'' height
Clamp Body Material: Glass-filled resin
Clamp Screw Travel: 3/8''