Bessey K Body REVO Jr. Parallel Bar Clamps
K Body REVO Jr. clamps provide powerful clamping in a compact package—parallel jaws prevent bowing, turning and lifting during clamping.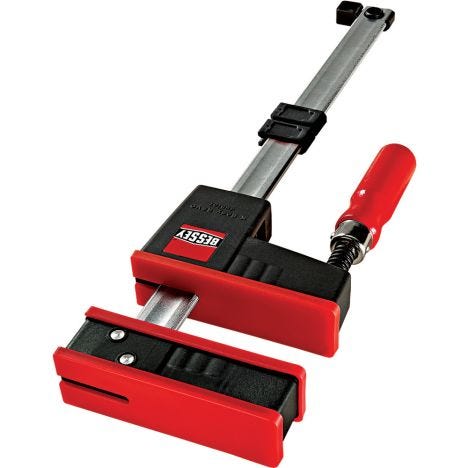 Prevent bowing, turning and lifting while clamping with Bessey® K Body® REVO™ Jr. Parallel Clamps! The large, parallel jaws are uniquely designed to distribute even pressure across the entire surface of your work. The K Body's updated design includes three removable jaw protection caps that help prevent wear, repel glue and resist paint and grease solvents—and they're easily replaceable, too. The quick-release feature allows the movable jaw to slide up and down the rail by simply angling the comfortable Power-Grip handle. Plus, each clamp includes two slip-on workpiece supports that attach to the rail, providing a stable base and preventing direct contact between the clamp and the actual workpiece. Plus, they deliver 900 lbs. of high-pressure clamping foce. And they have a powerful spreading feature for easy tear-down. Compatible with KP clamp blocks and the K Body Clamp Extender.
(1) Bessey K Body REVO Jr. Parallel Bar Clamp
More Information
Brand
Bessey
Weight
4.940000
Tech Spec

Clamping Force: 900 lbs
Length: Choose from 12'', 18'', 24'', 36'', 50''
Throat Depth: 3-1/4''
Full Jaw Dimensions: 1-1/2'' x 4-7/8''
Jaw Face to Side of Bar: 5/8''

Grip Style
Screw
Clamp Pressure
900 lbs
Length
12", 18", 24", 36", 50"