Boeshield Rust Free™ Rust and Stain Remover, 8 oz. Spray Bottle
A fast-acting rust remover for steel, cast iron and more—ideal for power tools and hand tools.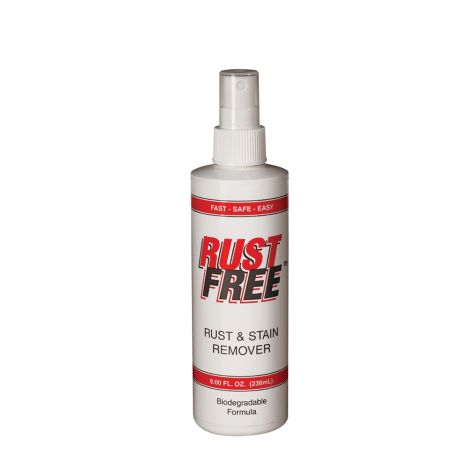 Rust Free is a fast-acting rust removal spray that helps lift rust and stains from steel, cast iron, fiberglass, chrome, tile, porcelain and vinyl surfaces. Simply spray onto your surface and let it penetrate, then wipe dry. If the rust is heavy, repeat the process with an abrasive pad until no rust remains. Thanks to the convenient refillable pump spray container, it's ideal for large surfaces—such as cast iron tops—that would be impossible to soak in a rust removal solution.
Features:
Quickly removes rust, corrosion, and stains from virtually any surface
A rust and stain remover that acts fast and is easy to use
Use on steel, cast iron, chrome, porcelain, tile and more
Do not use on tools with a black oxide coating
Biodegradable formula
(1) Boeshield Rust Free™ Rust and Stain Remover, 8 oz. Spray Bottle
More Information
Brand
Boeshield
Manufacturer Part Number
RF0008
Weight
0.650000
Tech Spec

Fluid Ounces: 8 oz.
Dispenser Type: Pump spray