Rockler Router Bit and Saw Blade Cleaning Kit
Makes cleaning router bits and saw blades extremely easy.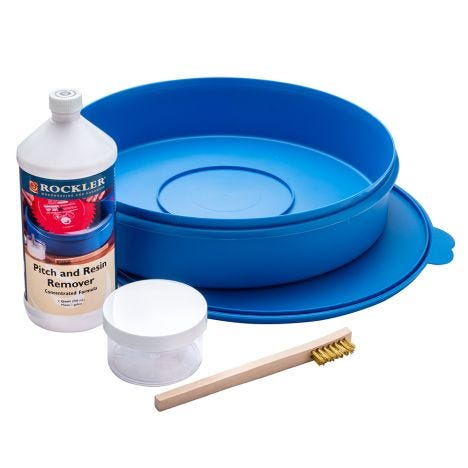 Let's face it, no woodworker particularly enjoys cleaning saw blades or router bits, so the easier we can make it, the better. This kit does just that, combining an extremely effective saw blade cleaning solution with two conveniently-sized containers that allow you to soak your blades and bits and let the blade cleaner do the brunt of the work for you. A brass brush is also included to whisk away the more stubborn particles. With clean, cool-running cutters, you'll get more precise cuts, a longer cutter life and spend far less on sharpening costs.
Features:
The jumbo sized "blade bath" features a raised inner ring, which prevents the blade from suctioning to the bottom
14" inside diameter accepts a 12" blade with plenty of room at the edges for easy removal
Kit includes 14" plastic blade bath with lid, 1 quart (makes 1 gallon) of Pitch and Resin Remover-a highly effective saw blade cleaner-brass-bristled scrub brush and a 6 oz. plastic jar with lid for cleaning router bits
(1) 14" blade bath with lid
(1) Quart of Pitch and Resin Remover (makes 1 gallon)
(1) Brass-bristled scrub brush
(1) 6 oz. plastic jar with lid for cleaning router bits

More Information

| | |
| --- | --- |
| Brand | Rockler |
| Weight | 4.450000 |
| Type | Blades, Drill Bits, Router Bits |