BOW GuidePRO GP5 Band Saw Feed Guide
Silicone provides continuous pressure against the resaw fence, leaving both hands free to guide your work.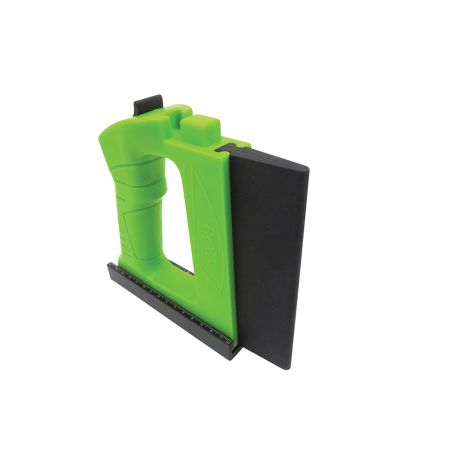 When resawing material on the bandsaw, stopping your workpiece mid-cut results in deeper saw marks, requiring more sanding and planing after the cut is finished. The GuidePRO GP5 Bandsaw Feed Guide solves the problem with steady, continuous pressure along the vertical edge of the workpiece against the fence, leaving both hands free to keep the workpiece moving forward. With the GuidePRO engaged, it's easy to alternate hands for a smooth, even feed, and there's no need to stop the cut to grab your push stick. In addition, the 6'' silicone feather helps to dampen vibration for the highest quality cut.
Features:
Consistent vertical pressure directly at the cut for a straighter, cleaner cut
Leaves both of your hands free to ensure a smooth feed
Flexible, non-marring feather conforms to variations in shape and thickness, and also dampens vibration
Ideal for resawing thin stock, odd shapes and tall panels—works with a standard resaw fence or single point resaw fence
Easy setup—just insert the miter cam into the miter slot and twist to secure, then slide the feather against your work and close the thumb lever to set the desired tension
Detachable base doubles as a measuring tool with metric and imperial graduations—perfect for use when squaring and setting the fence
See the optional GP7 Feather Extension Kit (#58623, sold separately) for even taller workpieces (over 10'') and GP10 GuidePRO Anchor Bar for more permanent securement
Hardware to fit 3 miter slots: 3/4", 5/8" and 15 mm
(1) GuidePRO GP5 Resaw Featherboard for Bandsaws
(3) Miter cams to fit different size miter slots 3/4"; 5/8", and 15 mm
More Information
Manufacturer Part Number
GP5
Weight
1.550000
Tech Spec

GuidePRO accommodates miter slots that are 2'' to 8'' (50mm to 203mm) from blade
Feather Height: 6'' (10'' with optional extension, sold separately)
Handle Material: Polymer
Feather Material: Silicone