Concealed Soss Hinges-Black Finish
Great for doors with limited space and and full range of motion.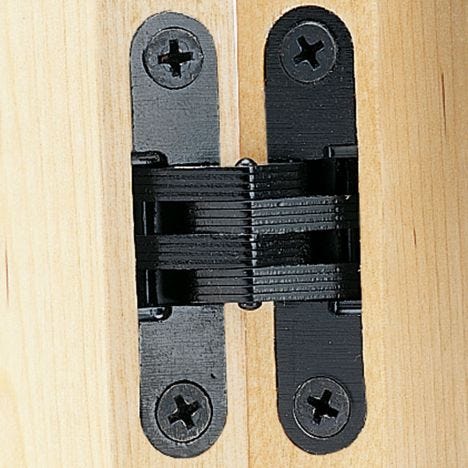 Elegant and durable, Soss invisible hinges are completely concealed when the cabinet door is closed. Soss hinges require mortises in the door and door stile for installation. Designed for use with inset doors.
Best Used With:
Soss Routing Jig, designed to ensure accurate hinge mortises.
(1) Pair of the selected hinge.
More Information
Brand
Soss
Weight
0.480000
Tech Spec
Item #30664 (SOSS #101):

Ideal for: Wood and Metal Use
Finish: Black
Height: 11/16''
Total Width: 1-1/20''
Wing Width: 3/8''
Distance Between Wings: 19/64''


Item #30671 (SOSS #204):

Ideal for: Wood and Metal Use
Finish: Black
Height: 2-3/8''
Total Width: 1-23/64''
Wing Width: 1/2'''
Distance Between Wings: 23/64''