Dowelmax Classic Doweling Jig
Create perfect joints quickly.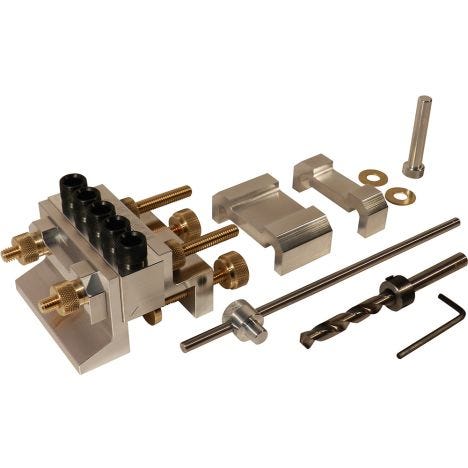 Ships directly from the manufacturer.
Must be shipped within 48 Contiguous United States.
Estimated Vendor Lead Time: 10 business days.

Dowelmax Classic is a highly versatile and adjustable dowel joinery system that enables the creation of perfect joints that can be completed in as little as 5 minutes, and that are independently destructive test proven to be stronger than comparable mortise and tenon joints. The system creates quick, easy accurate and strong joints using 3/8" dowels in virtually any configuration that can be flush, offset, mitered, face type, t-type, double or triple row, and of any length or thickness. The standard clamping capacity for work piece thickness is 4 inches which can be expanded to any width by detaching the clamp bracket and using an external clamp. No measuring is required; simply place check marks on the work pieces to be joined, then align the end of Dowelmax with the end of the first work piece so that the check marks on the Dowelmax correspond with the check marks on the work piece. Then drill, and repeat the process for the second work piece. Perfect alignment of all joints is guaranteed because the precise spacing and alignment of the five precision machined drill guides is maintained exactly the same for both work pieces. The design of Dowelmax, coupled with rigorously maintained manufacturing tolerances, ensure that the system is accurate and repeatable from work piece to work piece, and through any adjustment.
For even greater functionality, add the optional 1/4" drill guide package for use with 1/2" and 5/8" stock. With 1" thick work pieces, use a 1/8" spacer plate (also included with the 1/4" drill guide package).
(1) Dowelmax precision machined main device with 5 hardened steel 3/8" drill guides
(1) Dowelmax precision machined 1/16", 3/8", 3/4" and 1-5/8" spacers
(1) Dowelmax precision machined distance gauge
(1) Dowelmax precision machined index pin
(1) Dowelmax 3/8" drill bit and collar
(1) Dowelmax DVD and instruction manual
(1) Sample of 3/8" dowels
More Information
Brand
Dowelmax
Manufacturer Part Number
DMX-Classic
Weight
4.000000
Tech Spec

Components are made of top quality aluminum, brass, and hardened steel
Precision-machined to a tolerance of 0.002"
3.2 lbs (1.45 kg)