General Finishes Gel Stain, Black
Easy application with nothing but a clean cloth—heavy-bodied gel results in less penetration and more even color.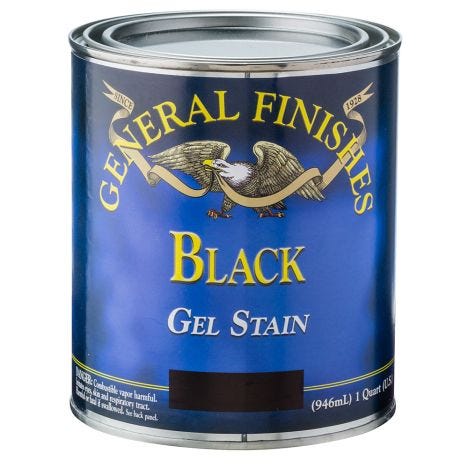 The foolproof finishing system! Just wipe on with a clean cloth and you're ensured of professional quality results without brush marks. Stains dry to the touch in minutes. If you want a darker color, apply another coat of stain in only 6 hours. Once you're satisfied with the color, apply General Finishes's satin gel topcoat finish. Special formula repels dust between coats. No sanding needed between coats and no unpleasant smell.

Note: Coded as a flammable substance by the U.S. Department of Transportation. Can not be shipped by air or through the postal system.
How To Apply the Oil Base Gel Stain:
Applying the gel stain is a simpler process than traditional stains that require sanding between coats. Before you apply your stain, however, you should prep your piece to ensure the stain covers correctly.
Clean the surface you plan to stain
Sand the surface. The suggested grit is 120-150 grit, you want to make sure that any existing finish that might be peeling is removed so the stain applies to the actual project surface.
Apply the gel stain liberally with either a cotton cloth, natural bristle brush or a poly foam brush. (Be sure to test a small area of your project to make sure it is the finish you want and that the application method you've chosen is working well for you.)
Wipe off the gel stain going with the grain using a clean dry cotton cloth or high quality paper towels.
Let it dry; between coats give your project a chance to dry. Drying time varies based on the size and nature of your project as well as the environment it's located in. Normally drying time ranges from 6 to 12 hours.
Repeat Steps 3-5

IF

you want more coverage or you want a deeper/richer finish.
Suggested Topcoat:
Topcoat can be used as a sealer over paints and stains or as a clean finish. If you want to use a topcoat the recommendation is Oil Based Arm-R-Seal Urethane Topcoat (sold separately).
(1) Gel Stain - General Finishes - Black
More Information
Brand
General Finishes
Tech Spec

Use: Interior
Coating Needs: Normally 1 to 2 (additional coats can deepen the stain color)
Ideal Drying Conditions: 70° and 70% humidity
Cure Time: 14 Days
Application Method: Wipe on, foam brush, natural bristle brush or paint pad applicator.
Clean-Up: Mineral Spirits
Coverage: 200sq ft/qt
Recommended Uses: Any wood project or fiberglass doors

Coverage
200 sq ft
Dry Time
6-12 hrs
Species
Black
WARNING:

This product can expose you to Benzene, which is known to the State of California to cause cancer and birth defects or other reproductive harm. This product can expose you to chemicals including Carbon black, respirable powder, which is known to the State of California to cause cancer, and Toluene, which is known to the State of California to cause birth defects or other reproductive harm. For more information go to www.P65Warnings.ca.gov.www.P65Warnings.ca.gov