i-Socket Autoswitch Workshop Tool and Vacuum Switch
Automatically turns on your shop vacuum when you turn on your power tool, optimizing both your workflow and your dust collection.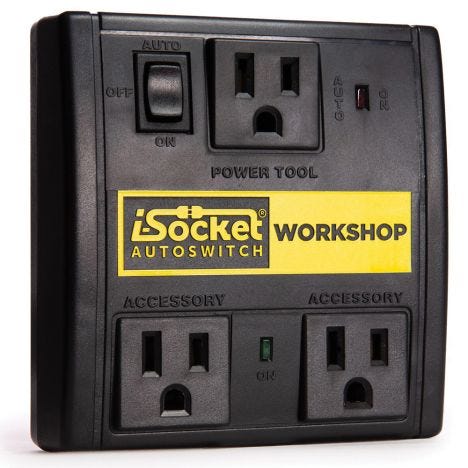 The i-Socket® Autoswitch lets you automatically turn your shop vacuum and up to one other accessory on and off in synchrony with your power tool. This eliminates the need to walk back and forth to the vacuum, saving you time, and ensuring that you don't skip the vacuum altogether if you're in a rush. With two accessory outlets, you can use it to turn on multiple items. Examples include turning on a fan, blower or water pump. Well-suited for woodworking power tools, including miter saws, table saws, power sanders and routers.
Features:
Automatically turns on your shop vacuum in sync with your power tool
Perfect for any power tool that benefits from dust collection
Updated design with new components and LED indicators
Mode switch and two accessory outlets for more flexibility and control
Supports a wide range of power tools from rotary handheld devices to large saws
Auto turn-on vacuum delay prevents circuit overload
Runs vacuum/accessory only when tool is being used, saving electricity
Delays vacuum turn-off by 7 seconds, allowing the hose to clear
(1) i-Socket® Autoswitch Workshop Tool and Vacuum Switch
More Information
Manufacturer Part Number
IS-12W00-BP
Weight
0.700000
Tech Spec

Brand: i-Socket
Dimensions: 4-1/4''W x 4-1/2''L x 1-1/2''D
Case: Durable UL-rated 94V, ABS plastic
Finish: Black Textured
Usage: Workshop/Indoor
Power Rating: 15Amp, 120V AC, 60 Hz
Actuation Threshold: ~0.5A (about 60W at 120V)
Input Plug: 3-Prong Grounded Male
Outlet Plugs (2 or 3 prong): 1 Power Tool & 2 Accessories
LED Indicator: Yes
Mode Switch: Yes
Shutoff Delay: 7 Sec
Safe Restart: No
Safety Approvals: UL/CUL /ETL 244A, 508, CSA C22.2 no. 14
HP should not exceed 1875W