Magswitch Miter Slot Dial Indicator
Precision dial indicator measures parallelism and fine changes in fence position—switchable magnets allow fast, easy attachment.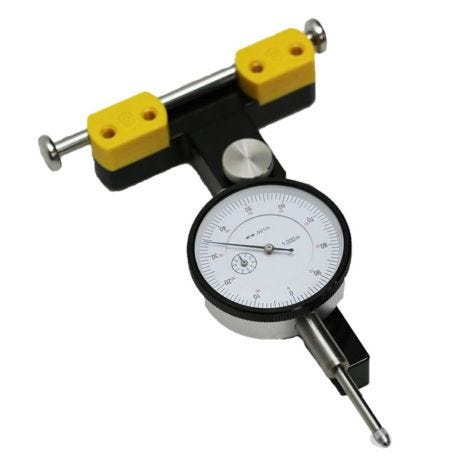 The Miter Slot Dial Indicator attaches magnetically to your miter gauge bar to determine if the blade is parallel to the miter slot. With clear, accurate readings, you can then correct any misalignment for the cleanest, safest cuts. After aligning the blade, you can also use it to align the fence parallel to the miter slot (and blade). Finally, it can be attached to the table on the right side of the fence to measure extremely small changes in fence position, useful when you're creeping up on a precise dimension. The gauge attaches to steel miter bars and ferrous metal tables. Depending on your table saw, the distance from the miter slot to the blade can vary. For this reason, the dial indicator portion slides in an adjustable slot to fit a range of saws.
Features:
Switchable magnets cling to any ferrous metal surface
Attaches to the miter gauge bar to measure blade/miter slot parallelism
Attaches to the table to allow microadjustment of the fence in any position
Dual magnets are actuated quickly with the sliding pin
Adjustable to work with a wide variety of table saws
(1) Magswitch Miter Slot Dial Indicator
More Information
Brand
Magswitch
Manufacturer Part Number
81101304
Weight
1.450000
Tech Spec

Nominal Max Breakaway Force: 120 lbs/54 kg
Nominal Maximum Shear: 18 lbs/8.1 kg
Net Weight: 1.2 lbs/0.55 kg
Footprint: 4.9'' x 5.9''/125mm long x 150mm wide