Mitchell's Abrasive Cord, 12' Roll
The hassle-free solution for sanding narrow grooves and slots, as well as beads on spindle turnings.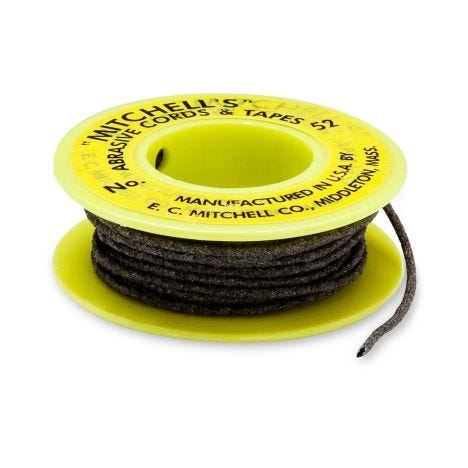 Mitchell's round abrasive sanding cords eliminate the bother of trying to fold and fit sandpaper into narrow grooves. Impregnated with aluminum oxide abrasive, they are ideal for sanding and polishing slots, grooves, small holes, and curved surfaces, and are especially well-suited for sanding turnings on the lathe. They can also be used on metal items, such as for cleaning up pipe threads. Wound on spools with approximately 12' each.
(1) 12' Roll of Mitchell's Abrasive Cord
More Information
Weight
0.060000
Tech Spec
150-Grit Mitchell's Abrasive Cord (#39136):

150 grit: Medium
Diameter: .055 inch (1.40mm)
Length: 12'
Abrasive Type: Aluminum Oxide




180-Grit Mitchell's Abrasive Cord (#38581)

180 grit: Fine
Diameter: .070 inch (1.78mm)
Length: 12'
Abrasive Type: Aluminum Oxide