Old Masters Exterior Oil-Based Spar Marine Varnish, Quart, Satin
Formulated for maximum durability in exterior applications with exposure to rain, sun and the elements.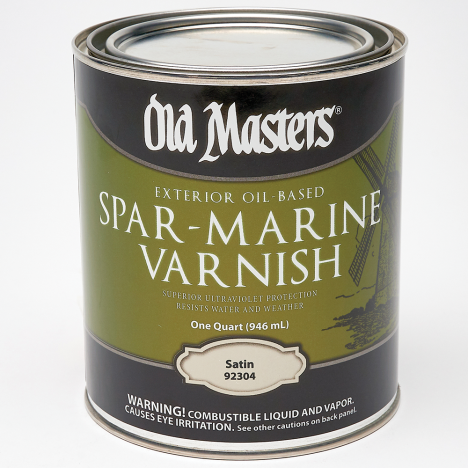 Shipping Restrictions: Ground Transportation Only to addresses within the 48 Contiguous United States.
Old Masters Spar Marine Varnish is a high-quality oil-based coating that is intended for maximum durability on exterior surfaces. It is formulated to produce a flexible finish that withstands both water and weather, and also contains ultraviolet absorbers for advanced sun protection. Available in satin, semi-gloss and gloss sheens.
(1) Quart Can of Old Masters Exterior Oil-Based Spar Marine Varnish, Satin
More Information
Brand
Old Masters
Manufacturer Part Number
92304
Weight
2.200000
Tech Spec

Coverage: Approximately 500 square feet per gallon. Coverage will vary significantly depending on application method and condition of wood
Application Conditions: Apply when air and surface temperatures are between 60° and 90°F and humidity is between 30% and 70%
Drying Time: At 50% relative humidity and 70°F, Spar-Marine Varnish will dry to the touch in 6 to 8 hours. Under ideal drying conditions, allow 8 to 16 hours before recoating. Overnight drying is recommended. Wait 24 hours before subjecting surfaces to light use
Quantity: Quart
Sheen: Satin