A tough wood finish made from natural plant oils and waxes—ideal for countertops, cuttings boards, butcher blocks and wooden utensils!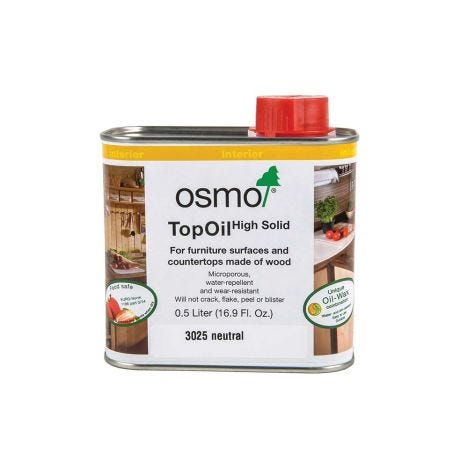 Osmo TopOil is a special combination of plant oils and waxes that's used as a treatment on wooden countertops, cutting boards, butcher blocks and other interior woodwork. Once cured, it forms a tough, hardwearing finish that repels water and dirt, and is resistant to wine, beer, cola, coffee, tea, fruit juices, milk and water. These liquid spills will tightly bead on the surface—simply wipe clean with a cloth. Osmo TopOil is available in several color choices, including Clear (imparts a natural amber hue), Neutral (contains white pigment to counteract ambering) and Acacia (lightly pigmented for a slightly darker, richer color).
Osmo TopOil Details:
A hardwax-oil finish that's ideal for wooden countertops and cutting boards
Water-repellent and resistant to household chemicals and stains
Tough and hardwearing, resists common kitchen spills
Choose from several color options
Clear vs Neutral: TopOil Clear is indeed a clear finish, but like most hardwax-oils, it will impart an amber hue. If you are coating a light-colored wood, and wish to retain the raw wood look, use Neutral, which contains a small amount of white pigments. On dark-colored woods, Neutral will impart a muted, chalky effect.
(1) Container of Osmo TopOil, 0.5L
More Information
Tech Spec

Brand: Osmo
Approximate Coverage for 1 Coat: 258 square feet/Liter (24 square meters/Liter)
Recommended Number of Coats: 2 coats with brush or 3-4 coats with cloth
Application Temperature: 41°F to 95°F (5°C to 35°C)
Approximate Dry Time: 8-10 hours
Application Methods: brush, wipe, buff or roll on
Clean Up: Mineral spirits
Use: Interior use only