Queen Bed Lift with Platform, End Opening
Uncover loads of new storage space with this easy-to-operate bed lift—includes queen-size steel platform with wooden slats!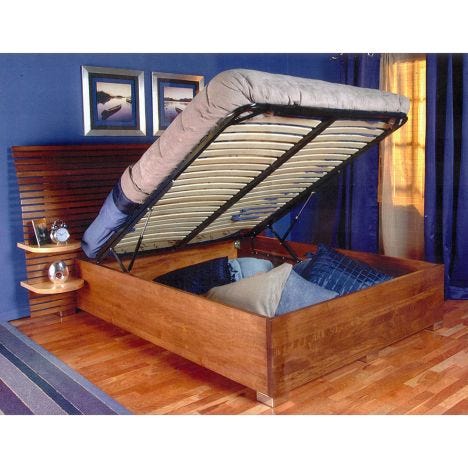 Ships directly from the manufacturer.
Must be shipped within 48 Contiguous United States.
Estimated Vendor Lead Time: 7-10 business days.
Please call customer service before returning product.
15% restocking fee on all returned merchandise.

Considering the amount of unused space under the average bed, it's no surprise that that's one of the most popular places to store things. But who wants to crawl around on all fours and deal with all the dust that collects there? This queen-sized bed lift with a steel mattress platform solves both problems. With a single hand, anyone can lift the platform to reveal vast amounts of storage, all fully visible, easily accessible and shielded from the dust that would otherwise collect on your items. The gas pistons provide lift for easy opening, and dampen the closing for safety.
Features:
Integral steel frame for easy installation and rugged durability
Opens from foot of the bed
Wooden slats provide additional shock absorption and comfort
Two lift mechanisms with gas pistons for easy access to your stored items
Platform moves laterally as it lifts for clearance at the wall
Designed to be used without a box spring
Wood components not included
Some assembly required
Static bearing weight of mattress, bedding and occupants placed on platform is limited to 400 pounds
For greater weight capacity, a suitable vertical support may be used under the center frame member and attached to the head and foot of the pedestal
Note: Mattress should weigh no more than 121.5 pounds (total capacity minus weight of steel platform). Platform and mattress weight combined will, ideally, equal the lift capacity. Not designed for use with a box spring.
(1) Queen-Sized Steel Bed Platform with Wooden Slats
(2) Lift Mechanisms with Gas Pistons
(1) Instruction Manual
More Information
Manufacturer Part Number
X8007
Weight
62.000000
Tech Spec

Opens From: Foot
Bed Size: Queen
Platform Weight: 32.5 lbs.
Lift Capacity: 154 lbs.
Max Mattress Weight: 121.5 lbs.
Platform Weight Capacity (including mattress, bedding and occupants): 400 lbs. (build a suitable center support to increase capacity)
Platform Dimensions (approximate): 60'' x 80''
Minimum Thickness for Wooden Bed Frame: 3/4'' hardwood plywood or 4/4 hardwood lumber
Recommended Mattress Thickness: 6'' - 10'' thick standard innerspring or foam mattress
For use only in HVAC controlled structures. Ambient temperatures not to exceed 130°. Failure to follow these guidelines can void any expressed warranty.