Red Oak by the Piece-1/8" Thickness
Fully surfaced on all 4 sides to actual dimensions.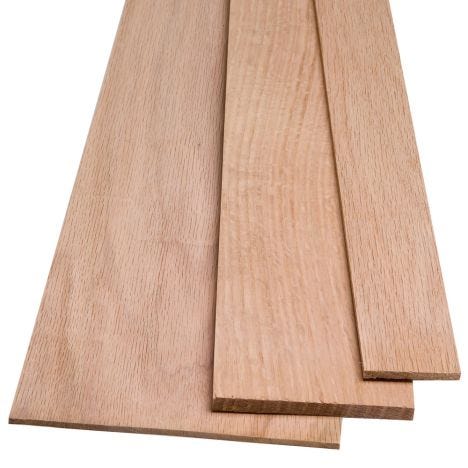 The quintessential American hardwood, Red Oak has a classic look and excellent strength properties. Its broad heartwood ranges from a pinkish tone to light reddish-brown. These thin boards are machined S4S to 1/8" and 1/4" thicknesses, eliminating wear and tear on your planer. You won't have to worry about chipout, which is difficult to prevent when planing thin stock. Thin boards are ideal for edging, veneering, inlay, marquetry, sides for decorative boxes, bending stock, bent laminations and whatever else your imagination can dream up!
Lumber Details:
Tree: May reach a height of about 60 to 90 feet), with a 12 to 36 inch diameter trunk
Grain: Usually straight and open. Plainsawn lumber may exhibit a plumed or flared grain appearance, while riftsawn boards show a tighter grain pattern. Quartersawn boards often have a flake pattern, sometimes called tiger rays or butterflies. Color variation is usually pronounced and is dependent upon the origin of the wood and the growing season in that locality
Texture: Depends on the rate of growth of the tree. Red oaks from the north are less coarse than the faster growing red oak from southern states.Working characteristics: Red oak is hard, but responds readily to sharp tools
Staining: Good staining qualities. Darker colored stain preceded by a light colored filler produces the 'lime' look. High tannin content makes the wood compatible with ammonia treatment to yield a nearly black finish
Steam Bending: Often used for steam bending
Strength Properties: Bending and crushing strength is high. Medium hardness, heavy weight. Red oak is less decay resistant than white oak or European oak
S4S - Surfaced Four Sides
Planed on top and bottom surfaces to be parallel.
Both edges are straight-line ripped perpendicular to top and bottom surfaces and parallel to each other.
This milling produces boards that are ready for your craftsmanship. All surfaces are parallel and square allowing ends to be cut square or at any angle you require. Boards with this milling can also easily be ripped to whatever width your project requires.
Great for all crafts, casework, furniture pieces, boxes, moldings...really any project!
(1) Red Oak by the Piece-1/8" Thickness
More Information
Tech Spec

Thickness: 1/8"
Species: Red Oak

Species
Red Oak
WARNING:

Drilling, sawing, sanding or machining wood products can expose you to wood dust, a substance known to the State of California to cause cancer. Avoid inhaling wood dust or use a dust mask or other safeguards for personal protection. For more information go to www.P65Warnings.ca.gov/wood.