Rockler Deluxe Panel Clamp, Single
Rigid, solid steel cauls sandwich your panel to keep it flat—4-way pressure eliminates buckling!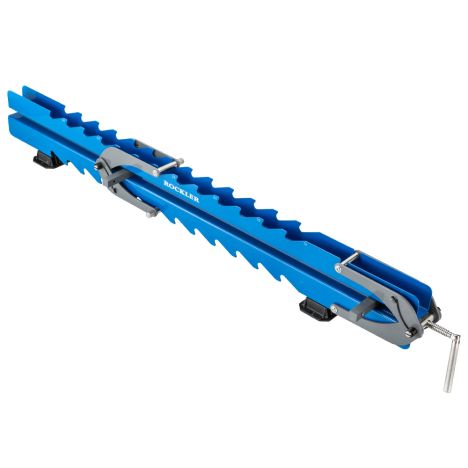 Shipping Restrictions: Ground Transportation Only.

Flat panels and flush joints are easy to achieve with our Deluxe Panel Clamps to keep things in line. Each clamp sandwiches your panel between two rigid steel cauls, forcing the joints flush and ensuring flat results. This saves you loads of sanding time, and ensures a nice, level surface without dips and high spots. Thoughtfully engineered from thick steel with scissor-action couplers that apply pressure from all sides, they're perfect for gluing up table tops, wide door panels and thick bench tops. With no bowing under pressure, there is no need to stagger your clamps top and bottom. The clamps are easily adjusted for stock up to 3'' thick and can clamp a panel up to 36'' wide. Buy as many as you need—two is a great starting point.
Features:
Provides four-way pressure that both squeezes the glue joints together and holds the boards flat while the glue cures
Equal pressure on all sides eliminates the tendency for the panel to bow upward under pressure
An excellent solution for building tabletops and thick benchtops
Sawtooth rails makes it easy to adjust the clamp—just position the tailstock to fit your project
Panel width marks are printed on rails for faster setup
Clamp feet provide clearance for easier adjustment and are easily repositionable
Steel rails are 1.8mm thick, with a durable powder-coat finish
Headstock and tailstock assemblies also powder-coated
Acme-threaded rod and handle are zinc-coated
Works on panels from 3/4'' to 3'' thick and 10'' to 36'' wide
Note: Two clamps are generally the minimum number needed, and the required number of clamps goes up with the size of your panel. A good guideline is that imaginary 45° lines extending from each clamp face should overlap the 45° lines extending from the neighboring clamp face at least somewhat.
Rockler Deluxe Panel Clamp, Single
(1) Set of clamp rails
(1) Clamp headstock with handle
(1) Clamp tailstock
(2) Clamp feet
More Information
Brand
Rockler
Weight
15.900000
Tech Spec

Brand: Rockler Innovation
Clamp Rail Dimensions: 1.78'' wide x 1.92'' high x 42'' long, made from 1.8mm thick steel
Thickness Capacity: 3/4'' to 3'' thick
Panel Width Capacity: 10'' to 36'' wide