Rockler Stainless Steel Pizza Cutter Turning Kit, Pewter Finish
Jumbo 4'' diameter stainless steel blade rolls through your pizzas easy as pie!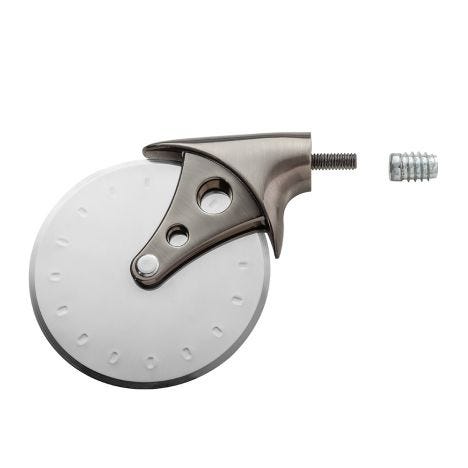 Cut any pizza with ease—a must-have for pizza lovers! Robust, well-balanced hardware is 3X the weight of competing cutters and features a sharp 4'' diameter stainless steel blade. Just add your own custom handle (not included) to top it to your taste. Kit includes a 5/16'' threaded insert that lets you attach the handle or remove it for dishwasher cleaning. A 7/16'' drill bit is required for soft woods or a 1/2'' drill bit for hardwoods. Patent pending. Also available in brass or chrome.
Methods to consider for installing the threaded insert:
Use a 5/16'' bolt and double nuts on a drill press. Cut the head off a 5/16'' bolt and chuck it in a drill press. Then thread on two nuts and the insert so that it is flush with the end of the bolt. Tighten the two nuts on the insert so it won't spin on the bolt. After the pilot hole is drilled in the stock, clamp your stock with a handscrew or a drill press vise and manually turn the drill press chuck to drive the insert into the stock. DO NOT TURN ON THE DRILL PRESS. The drill press will keep the insert square to the stock as it is threaded in. We also recommend using beeswax, screw lube, or even soap to lubricate the threads on the insert. This process can also be done on a lathe using a three jaw chuck in the tailstock to manually feed the insert into the stock. Finally, if you're using acrylics for your handle, we have found that heating the insert before installing it makes it go in like a hot knife in butter.
(1) Pewter Finish Pizza Cutter (no handle)
(1) 5/16'' Threaded insert to attach the handle
More Information

| | |
| --- | --- |
| Brand | Rockler |
| Weight | 1.050000 |
| Tech Spec | Recommended Blank Size: 1-1/2'' x 1-1/2'' x 6' |