Rubio Monocoat Oil Plus 2C Wood Finishes, Part A Only, 20ml
Color and protect in one easy rub-on coat with Oil Plus 2C hardwax oil finish (Part B Hardener sold separately)—excellent coverage; 20ml finishes 6-10 square feet!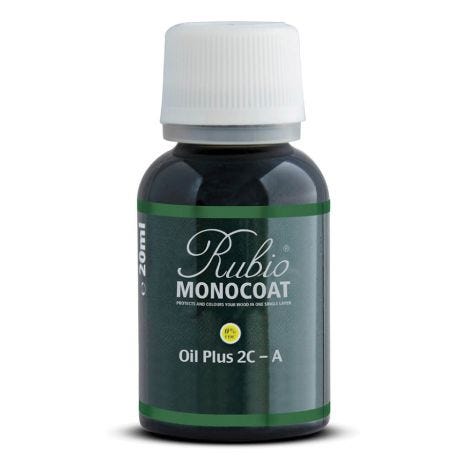 As its name implies, a single coat of Monocoat Oil Plus 2C is all you need to color and protect your finest wood projects. 2C stands for 2-component: Part A is the oil, and Part B (e.g. #72081, sold separately) is the accelerant and hardener. With Part A available in over 50 colors, you get the look you need in a fraction of the time it takes to apply separate coats of stain and finish. Oil Plus 2C forms a molecular bond with the topmost fibers of the wood, leaving a natural, close-to-the-wood finish with a soft matte sheen. Since it doesn't form a plastic film, Oil Plus preserves the natural look and feel of the wood—ideal for fine furniture, tables, chairs, desks, cabinetry and flooring where you want the wood to take center stage. Oil Plus 2C is a revolutionary plant-based, hardwax oil wood finish made from 100% natural ingredients, including linseed oil.
Oil Plus 2C features:
One-coat finish goes a long way—20ml covers 6-10 square feet, enough for a wide variety of small projects
Available in over 50 colors—buy multiples and mix to create endless possibilities
Durable, water-resistant protection and color in one single coat
0% VOC, no solvents, 100% natural plant-based ingredients
Preserves the natural look and feel of the wood—no film formation
Easy rub-on application with no overlaps or starting marks
Molecular bond occurs within 3-5 minutes; excess is removed within 10-15 minutes
Unlike traditional waxes and oils, there is no need to continually reapply
Easy to maintain and repair
Color Note: Color after application can vary widely depending on the wood species. Main color swatches shown are on white oak, and are only an approximation. We recommend testing colors first before final finishing.
Pure or Natural? Pure is a ''clear,'' non-pigmented finish, but like all oil finishes it will enrich and darken your wood somewhat. Natural contains lightening pigments that will counteract the tendency of the oil to darken the wood. Use Natural if you want the final color to be closest to the color of the raw wood. We recommend buying 20ml samples and experimenting before you apply Oil Plus 2C to your actual project.
5% Dilutions: Colors with 5% next to the name are diluted with non-pigmented Pure for a more transparent version of the parent color.
Do I need Part B? Although technically optional, we recommend purchasing Part B Hardener since it reduces cure times from 21 days to 5 days. It also adds durability and will not affect clarity. Oil and Hardener are mixed at a ratio of 3 to 1.
Important: Before application, use Rubio Wood Cleaner (#77596, sold separately) to remove residual dust. This will ensure that the oil finish bonds to the wood, and not to the dust.
Warning: Cloths saturated with oil may spontaneously combust. Be sure to follow proper disposal methods.
(1) 20ml Container of Rubio Monocoat Oil Plus 2C hardwax oil finish, Part A Only
More Information
Brand
Rubio Monocoat
Tech Spec

Brand: Rubio Monocoat
Volume: 20ml
Coverage for 20ml Size: 6-10 square feet
Color: Choose your color tint
Spread Rate: 300-500 ft²/L
Cure Time: Approx. 21 days (approx. 5 days with optional Part B Hardener)
VOC Content: 0%
Dilutable: No
Shelf Life: 36 months
Warning: Cloths, saturated with oil, may spontaneously combust. Be sure to follow proper disposal methods.