Shaper Origin Handheld CNC Router Packages
All the efficiency and digital precision of a CNC, but in a compact, portable package with no limits on workpiece size!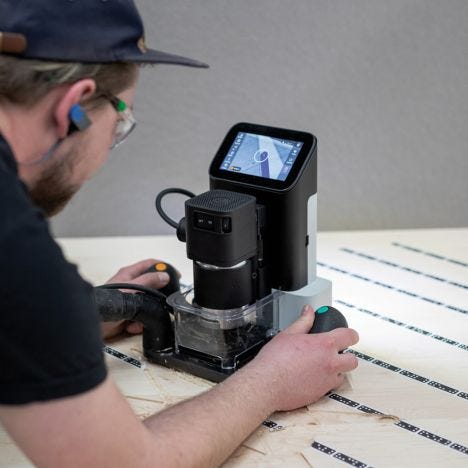 Say hello to portable precision: Shaper's revolutionary Origin computer-assisted handheld router. Just follow the toolpath on the screen—provided you stay in the general area, the spindle will auto-correct 100x/second to keep the cutter within 1/100'' of the line. If you wander too far off, the bit will automatically retract to prevent damage. Since it is handheld, it's both portable and exceptionally space-efficient for small shops. Origin's touch-screen interface lets you select designs and cut dimensions on the fly, and it automatically calculates toolpaths—no programming required. Load designs via WiFi from the ShaperHub website, from a computer with the included USB stick, or design your project right on the screen. Dimension panels, cut complex shapes without templates, rout hinge mortises and cut joinery, all with just a few screen taps.
Features:
No limitations on the workpiece envelope—perfect for large projects that wouldn't fit on a traditional CNC
Compact and portable—stows neatly in the included Sys 5 T-Loc Systainer
To determine its position, the router reads the patterned Shaper Tape (included), which you adhere to the cutting area
Automatic cut correction for X, Y and Z axes (left, right and depth-of-cut)
Automated Z-axis touch-off sensor sets Z-zero in just seconds
Intuitive touch-screen interface with multi-touch full-color LCD
Wi-Fi enabled for transfer of design files via ShaperHub, and for receiving software updates
USB port allows easy offline transfer of design files
Works with standard vector files (.SVG)
On-tool design capabilities for ease of use
Precision motor is produced by Festool to Shaper specifications
Soft-start motor with overheating and overload safety shutoffs
Dust port and shroud are designed around the spindle for optimal dust extraction
Dust port fits most standard 27mm (35mm O.D.) and 36mm suction hoses (e.g. Festool, Fein)
Includes a 6.5' adaptor hose with a 2-1/4'' O.D. nozzle for use with US-standard wet/dry vacs
Optional Shaper Plate works as a routing platform with a permanent domino pattern—perfect for small operations!
Shaper Plate functions as a universal template routing platform for your Shaper Origin. Its cut window measures 4-3/4'' x 6-1/4'', perfect for small scale work like routing hinge pockets for Euro hinges, mortises for butterfly keys, sets of 32mm system shelf holes and small carvings and engravings. The trademark domino pattern that Shaper uses to locate itself is permanently printed onto Shaper Plate, meaning you can get right to work without the time and expense of laying down tape.
Optional Workstation adds vertical clamping for mortise and tenon joints, box joints, and more!
Shaper Workstation features a precise vertical clamping surface and a table imprinted with the ShaperTape vision pattern, allowing you to machine small, precise parts like mortise and tenon joints and box joints. Beautifully engineered as a system to offer perfect 90° registration between the table and the clamping face, and across the clamping face using the retractable registration pins. Includes support arms, an angle fence and two clamps, which slide into T-slots in the face.
Optional 2-Year Pro Service:
The basic version of Origin Shaper (#79015) includes 1-year service. Packages with the 2-year Pro Service Plan include live phone support and Rapid Replace protection for immediate shipping of a replacement unit in the event of a failure.
Origin Router
(1) Shaper Origin Handheld CNC Router
(2) Rolls of ShaperTape (150' each)
(1) Set of tool change accessories
(1) USB flash drive
(1) 1/4'' up-cut spiral cutter
(1) 1/8'' up-cut spiral cutter
(1) 60° engraving cutter
(1) Universal dust collection adapter
(1) Tanos Systainer
Optional Shaper Plate
(1) Shaper Plate
(1) T-LOC MINI-Systainer
(2) Low Profile Clamps with 60mm Throat
(1) 32mm system pin
(1) Set of leveling feet
Optional Workstation
(1) Workstation with support bar, arms, shelf and angle fence
(1) 4mm wrench
(2) Hold-down clamps
(4) Spoilboards
Optional 2-Year Pro Service
(2) Years of live phone support
(2) Years of Rapid Replace protection plan for immediate shipping of replacement unit
More Information
Brand
Shaper
Tech Spec

Shaper Origin Router:

Manufacturer Part Number: SO2-UN
Input Power: 120VAC, 60Hz. 7A
Motor Power: 720W brushed AC motor
Variable Speed Range: 10,000 - 26,000 RPM with load-compensating speed control
Collet: Includes a 1/4'' collet that accepts 1/4'' shank router bits (1/8'' collet sold available separately from Shaper)
Depth Control: 43mm (1.7'') of total Z-axis travel
Dust Extraction Port: 34mm I.D. x 39mm O.D.
Digital Cut Files: Standard vector files (.SVG)
Origin Dimensions: 13-3/4'' (handle-to-handle) x 7-3/4'' x 11-3/4''
Systainer Dimensions: 15-1/2'' x 11-1/2'' x 17'' (SYS 5 T-LOC Systainer)
Weight (Origin only): 14.5 lbs
Weight (packaged with accessories in Systainer): 23.5 lbs

Shaper Plate:

Manufacturer Part Number: SV1-AA
Plate Width: 14-1/4''
Plate Height: 17-3/4''
Plate Thickness: 1/4''
Plate Weight: 4.5lbs
Cut Window Width: 6-1/4''
Cut Window Height: 4-3/4''
Clamp Throat Depth: 2-3/8'' (60mm)

Shaper Workstation:

Manufacturer Part Number: SW1-AA
Overall Height: 9.8''
Overall Width: 20.3''
Overall Depth: 18.3''
Assembled Weight: 21.5 lbs.