Spartan 8'' x 1'' CBN Sharpening Wheel (5/8'' Arbor)
Incredibly hard, CBN sharpening wheels require no truing, no water, and no need to readjust your jigs due to a shrinking wheel.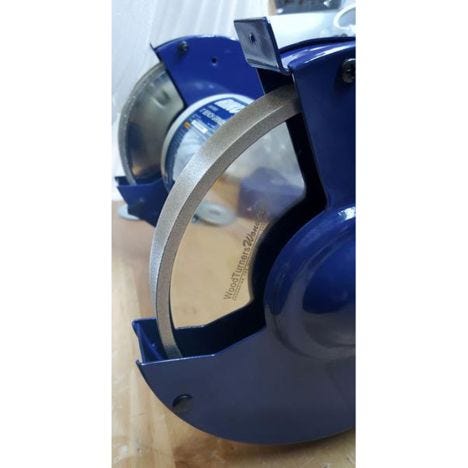 CBN (Cubic Boron Nitride) is one of the hardest, most durable sharpening abrasives known—only diamond is harder. By impregnating the abrasive into a precision-machined aluminum wheel, you get a sharpening wheel that requires no truing, no water and no need to readjust jigs due to an ever shrinking wheel. Thanks to their aggressive, fast-cutting nature, you'll spend less time sharpening and more time woodworking. These 8'' wheels are 1'' wide and designed to fit grinders with a 5/8'' arbor. No water should be used when sharpening with CBN, meaning less mess.
Features:
CBN wheels will never change shape—no need to dress the wheel or true it up
Designed to run dry—no messy water to change
6061 aluminum serves as an excellent heat sink, making water unnecessary
No need to readjust your jigs because of an ever-shrinking wheel
Fast, aggressive cut for less sharpening time
Approximately 1/4'' of grit on the flat sides
Important Note: No water should be used with CBN wheels. Warranty may be void if water is used with the wheel.
(1) Spartan 8'' x 1'' CBN Wheel (5/8'' Arbor), 80-Grit / 180-Grit / 350-Grit / 600-Grit
More Information
Tech Spec

Brand: WoodTurners Wonders
Grit: 80/180/350/600
Wheel Material: Aluminum
Abrasive Material: Cubic boron nitride
Wheel Diameter: 8''
Wheel Width: 1''
Arbor Hole: 5/8''