Rikon 80-805 8'' Slow-Speed Bench Grinder
Low wheel speed helps prevent tools from overheating as you sharpen them.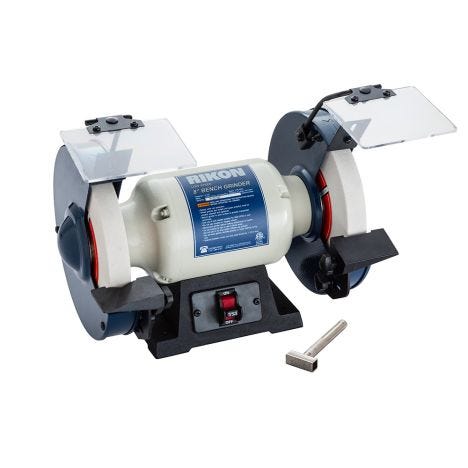 NEW LOWER PRICE!
Was $199.99, Now $199!
Woodworkers looking for a bench grinder that's capable of putting a sharp edge on chisels, plane irons, turning tools, knives and other hand tools will be delighted with the Rikon 80-805 Slow-Speed Grinder. Hit the power switch, and it starts up smoothly and quietly, coming up to speed at only 1,750 RPM, a low speed that all but eliminates the risk of tool damage from excess heat. For very damaged edges, we recommend dipping your tools in a water bath periodically as you sharpen. Two wheels—60-grit and 120-grit—let you go from rough grinding and shaping to final sharpening without any changes or setups. The left tool rest even features a V-channel for sharpening drill bits. At this price point, the Rikon 80-805 represents a very economical sharpening system that will give you sharp tools in a very short time. Of course, you can also use it for light-duty grinding or rust and paint removal with great success.
Features:
Cast iron base and rubber feet contribute to a solid feel and reduced vibration
Both wheels are surrounded by heavy-duty spark arrestors
Individually adjustable eye shields help to protect your face and eyes
Dual tool rests let you position your tool at a variety of angles
Left-hand tool rest has a V-groove for sharpening drill bits
Includes diamond wheel dresser for keeping the wheels round and flat
(1) Rikon 80-805 8'' Slow-Speed Bench Grinder
(1) 60-Grit Wheel
(1) 120-Grit Wheel
(1) Diamond Wheel Dresser
More Information
Brand
Rikon
Manufacturer Part Number
80-805
Weight
36.950000
Tech Spec

Motor: 1/2 HP; 3A; 120V; 60Hz
RPM (no load): 1,750
Included Wheels: 60- and 120-grit aluminum oxide
Wheel Dimensions: 1'' wide x 8'' diameter
Arbor: 5/8''
Overall Dimensions: 16-3/8''W x 10-3/4''D x 11-1/4''H
Base Footprint: 5-1/2'' x 7-5/8''
Power Cord Length: 6'