SuperMax 19-38 Drum Sander
With the SuperMax 19-38 Drum Sander, you can put away the handheld belt sander for good!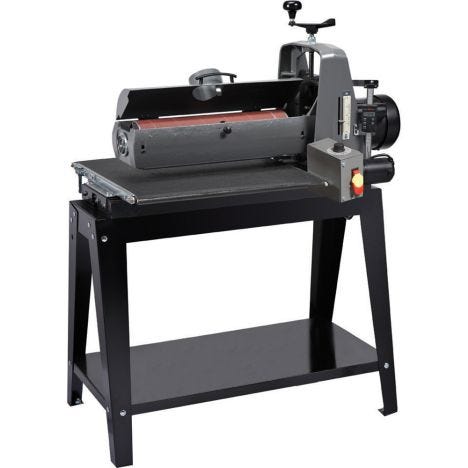 Additional Shipping and Handling Charge: $150
Must be shipped within the 48 Contiguous United States.
Digital readout shown in image is sold separately
Estimated Delivery time: 7-14 business days.

Perfect for the small shop or woodworking hobbyist, the SuperMax 19-38 churns out flat, smooth surfaces with unwavering consistency, giving you the benefits of a wide belt sander at a price that won't break the bank. Gone are the dips, gouges and sore arms of the hand sanding process. The 19-38 Drum Sander offers 19" width sanding in a single pass and 38" in a double pass, perfect for flattening and smoothing raised panel doors and drawer fronts, table tops, cabinet parts and much more. The 19-38 Drum Sander comes standard on the Open Stand. The drum is pre-wrapped with 80 grit sandpaper.
Features:
Simple alignment: Just one nut will adjust the conveyor parallel to the sanding head
Indexed alignment setting for narrow and wide stock. When sanding stock wider than 19", the index lever will properly adjust the conveyor for flawless sanding of wide boards
Easy height adjustments: Thrust bearing below handle and nut above it prevents drum from moving out of set position while sanding. No backlash or slop in the height adjustment mechanism, allowing easier and smoother height adjustments
Extra-wide 22" conveyor properly supports stock over 19" wide
Drum will never go "out of alignment". Drum carriage is bolted to the base, preventing any movement or alignment issues
INTELLISAND™ Technology automatically adjusts conveyor speed based on load, preventing gouging, damaging or burning stock, providing consistent finish even with varying grain pattern and density, and greatly increasing abrasive planing and dimensioning speed
Precision-flattened steel conveyor bed is reinforced with four steel cross sections for no "flex" in conveyor, guaranteeing flatness to less than .010" across the width of the sander
Abrasive conveyor belt offers the best grip for raw wood, giving you the ability to accommodate stock that is very short or thin
Patented abrasive attachment system effectively tensions the abrasive wraps, preventing loose or overlapping abrasives
Easiest access to abrasive fastening system of any drum sander. Extra wide space to access fasteners to eliminate need for special tools
Self-cooling drum prevents overheating and extends abrasive life
Tension rollers are adjustable for height and hold down pressure, eliminating snipe
Metal dust cover is formed to shape of drum for optimum dust extraction
Heavy-duty cast iron construction for strength, rigidity and reduced vibration
Digital Height Gauge sold separately
What is the difference between the 19-38 Drum Sander and the 19-38 Combo Sander?
The 19-38 Drum Sander is an open-ended drum sander only; the drum is not interchangeable with any heads. The 19-38 Combo can be equipped with different brush heads for profile sanding (flatter brush head), distressing (wire brush head), cleaning reclaimed wood (nylon brush head), and sanding flat stock with a drum. The 19-38 Combo machine is equipped with an AC Inverter that allows the brushes to be run at variable speeds, whereas the 19-38 Drum Sander only runs at a constant speed.
Can I convert the 19-38 Drum Sander into a brush machine like the 19-38 Combo?
Although they look similar, no, it's not possible to convert the 19-38 Drum Sander into a brush sander. The 19-38 Drum Sander is not equipped with an AC Inverter, which allows the brush heads to be run at variable speeds. The casting of the 19-38 Combo machine is also different from that of the 19-38 Drum. If you feel you want the option of using a drum and a brush, we recommend the 19-38 Combo machine.
(1) SuperMax 19-38 Drum Sander
(1) Open Stand

With the Rockler Protection Plan you'll get accidental damage coverage immediately upon purchase of your tool. Plus we will extend the manufacturer's warranty for your choice of an additional 1 or 2 years. We'll take care of all parts and labor for any repairs with no deductibles and no hassles. If your tool can not be repaired we'll gladly replace it. Available in the US only. Click here to learn more.
Standard Manufacturer's Warranty: 24 months once registered in the first 30 days
More Information
Brand
Supermax
Manufacturer Part Number
71938-D
Tech Spec

Maximum workpiece width: 38" (two passes)
Minimum workpiece length: 2-1/4"
Maximum workpiece thickness: 4"
Minimum workpiece thickness: 1/32"
Overall dimensions: 40"L x 24"W x 24"H
Drum: 5" x 19" extruded aluminum
Drum speed: 1740 RPM
Dust hood: 1- 4" vacuum port; minimum 600 CFM recommended
Conveyor motor: 43 in.-lb. torque, direct drive D.C. motor, infinitely variable 0-10 FPM
Drive motor (TEFC): 1-3/4 HP
Power Requirements: 110V, 20A
Shipping Weight: 286 lbs. (3 boxes including stand)