SuperMax 16-32 Drum Sander
Just pull the patented Quick Adjustment Lever to raise the drum height from 0'' to 3'', no need for multiple revolutions of the hand wheel!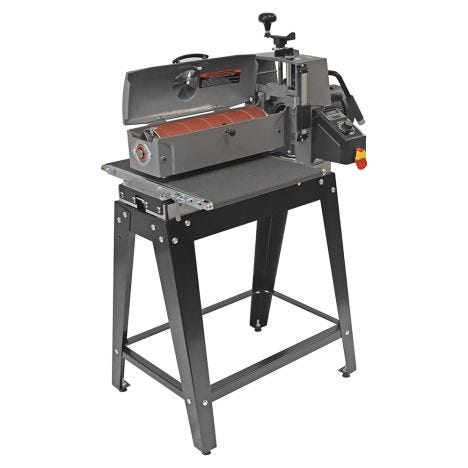 Additional Shipping and Handling Charge: $150
The new SuperMax 16-32 Drum Sander features a patented ''Quick Adjustment Lever'' that raises the drum through its entire 0'' to 3'' height range with an easy pull of the lever. The traditional adjustment wheel still allows fine adjustments, but there is no need to repetitively wind the wheel for larger adjustments. In addition, the patented ''Fast Lever'' permits rapid adjustments for wide and narrow stock. The Turbo Vented dust port uses impeller-like fins to improve dust collection by up to 15%, and a rear-mounted conveyor motor pulls stock through, instead of pushing, to improve conveyor tracking. The 16-32 features a built-in DRO that is paired with SuperMax IntelliSand Technology for easy setup and even sanding without burning or overloading the motor. The SuperMax 16-32 churns out flat, smooth surfaces with unwavering consistency, giving you the benefits of a wide belt sander at a price that won't break the bank. It offers 16'' of sanding width in a single pass and 32'' in a double pass. The 16-32 Drum Sander comes standard with an open stand, and the drum is pre-wrapped with 80-grit sandpaper.
Features:
Quick adjust lever for fast height adjustment—just pull the lever to go from 0'' to 3''
Built-in digital readout for precision and ease of setup
IntelliSand™ Technology automatically adjusts conveyor speed based on load, preventing gouging, damaging or burning of stock, providing consistent finish even with varying grain pattern and density, and greatly increasing abrasive planing and dimensioning speed
Single alignment point—just one nut aligns the conveyor parallel to the sanding head
Indexed conveyor alignment for wide stock
Extra-wide conveyor properly supports stock over 16'' wide
Thrust bearing eliminates backlash in height adjustment
Extra wide space for easy access to abrasive fastening system
Self-cooling drum prevents overheating and extends abrasive life
Tension rollers are adjustable for height and hold down pressure to help prevent snipe
Optional folding indeed/outfeed tables available for additional support (#55450, sold separately)
(1) SuperMax 16-32 Drum Sander
(1) Open Stand
(1) 80-Grit Drum Wrap (pre-installed)

With the Rockler Protection Plan you'll get accidental damage coverage immediately upon purchase of your tool. Plus we will extend the manufacturer's warranty for your choice of an additional 1 or 2 years. We'll take care of all parts and labor for any repairs with no deductibles and no hassles. If your tool can not be repaired we'll gladly replace it. Available in the US only. Click here to learn more.
Standard Manufacturer's Warranty: 24 months once registered in the first 30 days
More Information
Brand
Supermax
Manufacturer Part Number
71632
Weight
158.000000
Tech Spec

Drum Width: 16''
Maximum workpiece width: 32'' (two passes)
Minimum workpiece length: 2-1/4''
Maximum workpiece thickness: 3''
Minimum workpiece thickness: 1/32''
Flatness Guarantee: 0.010''
Frame Material: Cast aluminum
Overall dimensions: NA
Drum Diameter: 5'' self-cooling aluminum
Drum speed: 1740 RPM
Dust hood: Plastic with 1'' x 4" turbo-vented dust port
Conveyor motor: 43 in.-lb. torque, direct drive D.C. motor, variable from 0-10 FPM
Minimum CFM Required: 600 CFM
Drive motor (TEFC): 1-1/2 HP, 110V, 15A, 1-Phase
Recommended Circuit Size: 20A
This item will ship directly from the manufacturer.
Must be shipped within the 48 contiguous United States.
Please allow up to 7 business days for your shipment to be prepared.
Additional shipping charges may apply and will be noted below the price.
Items shipped by truck are delivered to the curbside only.
25% restocking fee on all returned merchandise.
Please call customer service before returning product.