Tried & True Original Wood Finish
FDA approved as non-toxic and non allergenic, Tried & True Original Wood Finish produces an "antique" sheen reminiscent of the patina on well-cared-for antique furniture.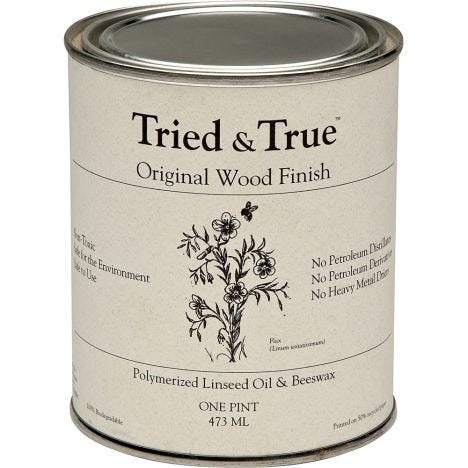 Tried and True Original Wood Finish is a premium oil finish made with traditional varnish-making techniques and 100% natural, plant-derived ingredients. It provides a beautiful, natural sheen that allows the grain of the wood to shine through, yet gives plenty of protection for wood surfaces. It is safe for use with cutting boards and children's toys, and is FDA approved as non-toxic and nonallergenic.

Features:
Made from highly refined, highly polymerized Linseed Oil and pure Beeswax.
100% solids—no solvents or heavy metal driers.
Adapted from a Shaker finish and English Arts and Crafts technique.
Finished surface has an ''antique'' sheen that shines without appearing glossy.
May be applied to revive any existing finish.
Gets harder and more durable as it ages.
Directions for Use:
Apply thin coats. It is almost impossible to use too little.
Allow the finish to sit on the surface for about 1 hour.
Wipe down and buff with a soft, clean cloth to desired sheen.
Allow at least 24 hours between coats.
Consult the label for instructions on disposal of wiping cloths.
Two coats is usually sufficient on trimwork, windows and doors. Furniture should have three coats.
Original Wood Finish will increase durability after 2 coats, but it will not increase in gloss.
Buff with a soft clean cloth to maintain the shine.
(1) Tried & True Original Wood Finish
More Information
Brand
Tried & True
Tech Spec

Dry Time: 1 hour
Recoat: 24 hours
Recommended # of Coats: 2-3
Coverage: Up to 1000 sq. ft./gallon

Use
Interior