V-Shaped Welded Steel Table Leg Set, Black
Create your own custom table with these sleek, modern steel legs—28'' height is ideal for dining tables, game tables, desks and more.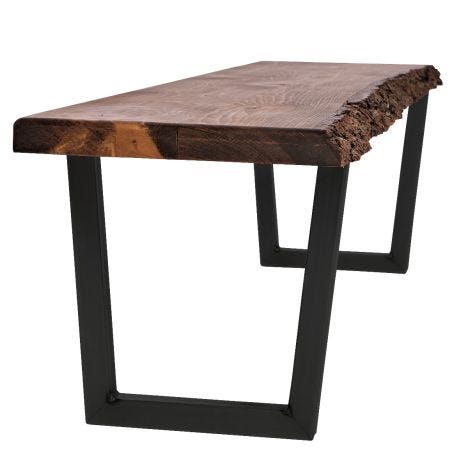 It's easy to create your own custom table with these sturdy welded steel leg sets. Simply buy or build your own top and attach the legs for a sturdy, stylish table or other piece of furniture. The leg sections are welded from thick steel sections, creating a solid foundation for almost any need. These versions are unpainted raw steel, and will need to be coated with clear lacquer or metal paint to prevent rust. Alternatively, you can leave them raw and they will acquire a natural rust patina over time. Rockler also offers steel legs with a black powder-coat. Each set includes all necessary mounting hardware. Handmade in Canada.
(1) H V-Shaped Welded Steel Table Let Set (2 welded assemblies)
(1) Pack of mounting hardware
More Information
Brand
Live Edge Timber Co.
Tech Spec

Brand: Live Edge Timber Co.
Material: Steel
Coating: Various; Unfinished, Black
Height: Various; 15'', 20'', 28'', 38''
Width: Various; 12'' bottom/15'' top for 15''H and 20''H, 19'' bottom/24'' top for 28''H, 17'' bottom/19'' top for 38''H
Tubing Width: Various; 1.5'' for 15''H and 20''H, 3.0'' for 28''H and 38''H
Reference: Technical Documents attributed to height selected for dimension drawings

66014:

Top Plate: 24-1/2" wide
Leg: 24'' wide along the tubing