Woodshop Calculator for Door Making (License Key)
With the push of a button, this easy-to-use web app generates a complete, accurate cut list for your raised or flat panel doors. NEW VERSION! Now includes wainscoting and improved part labels.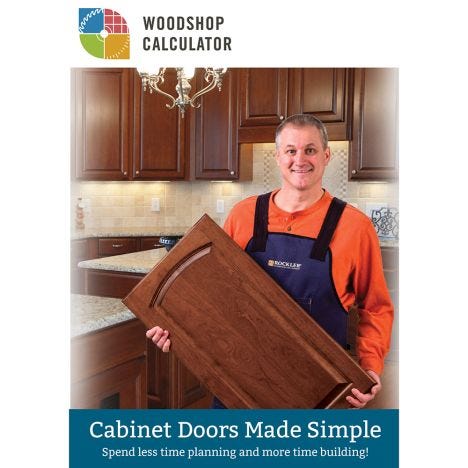 Take advantage of our new web-based Woodshop Calculator (www.woodshopcalculator.com) to save time and eliminate costly mistakes when making raised panel doors! Simply input your desired rail and stile widths, door overlay and the opening sizes of your cabinets, and the program instantly generates a neatly organized cut list for your rails, stiles and panels. No more unpleasant surprises caused by fuzzy math. Since the application is web-based, you can access it from any device you like, whether at the jobsite, in your shop, your office or your favorite recliner. The program lets you easily create custom designs like double panel doors, arched doors and cathedral doors. It even tells you which of our optional Cathedral Door Templates or Arched Door Templates to use to further simplify routing the profiles. Choose from 30-day, 1-year or 5-year subscriptions.
New Improved Version (9/1/2020) now includes the ability to calculate wainscoting parts, along with several improvements to reports, label printing formats, and CSV file exports so you can sort your parts and better plan your material lists.

Features:
Compatibility with mobile devices lets you take the application on the road—punch in cabinet openings right at the jobsite to eliminate errors in transcription
Create doors with up to four panels
Get dimensions for a single door or every door in an entire kitchen
Calculates for flat panel doors and raised panel doors
For arched or cathedral doors, the program tells you which template to use for the size of door that you are building
Generates printable cut lists with fractions or decimals
Generates labels to stay organized during assembly
An ideal solution for woodworking enthusiasts and professional cabinetmakers alike
Works with most modern web browsers and devices
(1) Woodshop Calculator License Key
More Information

| | |
| --- | --- |
| Tech Spec | Calculates: Flat Panel and Raised Panel Doors |