15-Color Alumilite Resin Dye Set, 1 oz. Each
Fifteen of the most popular opaque and translucent dyes for adding vibrant colors to your urethane and epoxy casting resins.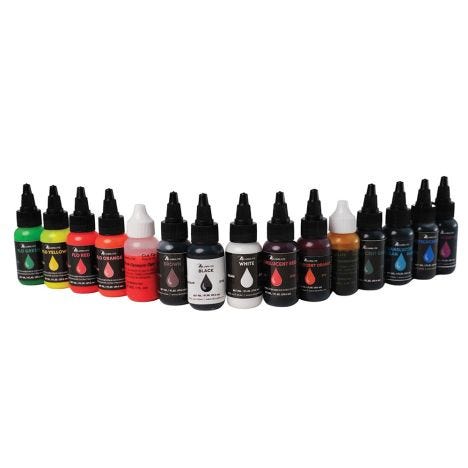 Use Alumilite Dyes to add swirls and splashes of vibrant color to your casting resins! This set includes 15 of the most popular dyes from Alumilite, consisting of every color offered, except for tan, beige and dark brown. Both translucent and opaque colors are included. Use the translucent colors with clear resins to produce see-through castings. Use the opaque colors to turn clear resins opaque. Both types also work in opaque resins, but as you might guess, the opacity will remain solid. You can also blend any combination of the colors to produce custom colors.
Features:
Adds brilliant color to urethanes and epoxy resin
Highly concentrated—use the smallest amount possible to achieve desired color (up to 5%)
In a small resin batch, less than 1 drop is often sufficient. This can be achieved by adding a spec of dye to the tip of a stir stick rather than dispensing from the bottle
Opaque dyes contain fillers that may settle. To maintain consistent color, agitate/stir prior to use
Note that dye saturation and hue can change over time when added to resins in additon to UV exposure (see note on green below)
Note: Green translucent dye is not compatible with epoxy. All dye colors can shift in hue over time based on UV exposure and chemical properties when mixed with resin.
Important: Read SDS prior to use.
15-Color Alumilite Resin Dye Set
(1) 1 oz. Bottle of Opaque Black
(1) 1 oz. Bottle of Opaque White
(1) 1 oz. Bottle of Translucent Red
(1) 1 oz. Bottle of Translucent Orange
(1) 1 oz. Bottle of Translucent Yellow
(1) 1 oz. Bottle of Translucent Green
(1) 1 oz. Bottle of Translucent Ocean Blue
(1) 1 oz. Bottle of Translucent Blue
(1) 1 oz. Bottle of Translucent Violet
(1) 1 oz. Bottle of Translucent Brown
(1) 1 oz. Bottle of Opaque Flo Red
(1) 1 oz. Bottle of Opaque Flo Pink
(1) 1 oz. Bottle of Opaque Flo Orange
(1) 1 oz. Bottle of Opaque Flo Yellow
(1) 1 oz. Bottle of Opaque Flo Green
More Information
Brand
Alumilite
Weight
1.750000
Tech Spec

Brand: Alumilite
Manufacturer Part Number: AL30000
WARNING:

These products can expose you to chemicals including Formaldehyde, which is known to the State of California to cause cancer. www.P65Warnings.ca.gov www.P65Warnings.ca.gov/product

WARNING:

This product can expose you to chemicals including Carbon Black, which is known to the State of California to cause cancer. www.P65Warnings.ca.govwww.P65Warnings.ca.gov www.P65Warnings.ca.gov/product