Rockler Silicone Casting Mold, Knife Scales
Sharp-looking knife scales are easy to make with these flexible silicone molds and colored casting resins.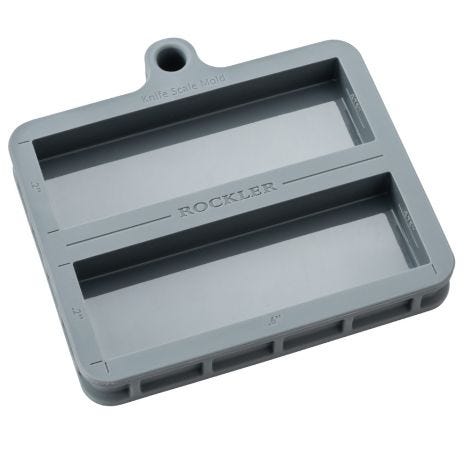 These flexible silicone molds let you make your own custom knife scales by pouring in resin mixed with whatever colorants you like. Once cured, the flexible silicone makes it easy to extract the scales. Lines in mold cavities clearly mark the fill height for standard 3/8'' thick blanks. The matte finish on the outside of the mold eases removal of excess resin, while the gloss interior makes for a smooth blank.
Features:
Lets you make one-of-a-kind custom knife handles with casting resin and a wide range of colorants
Mold is made of silicone for easy release of cast resin once it has cured. To prevent damage to the mold and prolong its life, we strongly recommend using Amazing Mold Release (#72953, sold separately)
Two cavities allow casting of two 2'' x 6'' knife scales
Lines in mold cavities mark fill height for 3/8'' thick blanks
Ribs on outside of mold provide strength to prevent deflection when filled with resin
Matte exterior for easy removal of excess resin; high-gloss interior leaves smooth finish
Hang hole for convenient storage
(1) Knife Scale Silicone Casting Mold
More Information
Brand
Rockler
Weight
1.000000
Tech Spec

Brand: Rockler Innovation
Material: Silicone
Scale Thickness: 3/8''
Scale Dimensions: 2'' x 6''